Rock 'n' roll and the movies join the fight against climate change.
In some contexts, black suits over black shirts might seem depressingly funereal. But for Rob Reiner, Hollywood writer-director-producer-actor, and Al Gore, the Oscar-winning former US vice-president, the black-on-black look is the sort of chic more or less de rigeur when opening the Tribeca Film Festival. They were there because this year it features a series of shorts about climate change. And above the collars the two men were all about the joy, doing their best to give green activism a new, upbeat sell.
Their enthusiasm revolved around Live Earth, a global extravaganza set for 7 July that, Gore says, "is an opportunity for the whole world to come together at the same time in a spirit of joyfulness".
Live Earth is to be a media event in the tradition of 2006's Live 8, which focused attention on debt relief at the time of the G8 summit in Gleneagles, Scotland. It will include seven concerts on seven continents, and fits into Gore's stated plan to move the global culture past a "tipping point, beyond which political and business leaders and all sectors of civil society compete to offer policies and programmes that will sharply reduce emissions".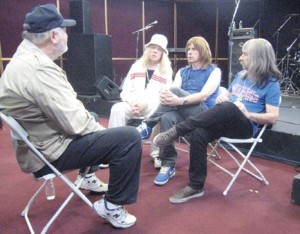 Naturally, nothing says rock and roll like policies and programmes, and Live Earth has attracted a wide range of talent, although skewed, perhaps, to the tastes of Gore and Reiner's generation. At Tribeca, the band in the spotlight was Spinal Tap, whose life on the road was documented in Reiner's 1984 spoof rockumentary of the same name. The Tap, veterans of Save the Ferret and donors to the High Instep Foundation, are not only reforming for Live Earth but also releasing a new single, 'Warmer than Hell'.
A Reiner film of the reunion will be one of 60 short films on climate-change themes released at the time. Six of these shorts were shown at the festival, and ranged from the dressed-up factual — an explanation of America's energy sources in the style of a rock video — to the strikingly metaphoric — a pretty face being spat on by passers by.
"All of these things that we are seeing where people are raising awareness are good," says Katie Mandes, communication director for the Pew Center on Global Climate Change, a policy shop in the Washington DC area. "You can't do the advocacy if you don't have heightened awareness, and we still have a long way to go." And she agrees with Reiner and Gore's cheerful stance. "I think it is important to start talking about solutions, to avoid the notion of hopelessness."
Related links
Related links
Related links in Nature Research
Related external links
About this article
Cite this article
Marris, E. Live Earth taps into sense of joy. Nature 447, 13 (2007). https://doi.org/10.1038/447013a
Published:

Issue Date:

DOI: https://doi.org/10.1038/447013a