The idea of bendy crystals, especially ones that move rapidly and reversibly in response to light, seems strange. Such materials have now been prepared — but how do they change shape so dramatically without cracking?
This is a preview of subscription content
Access options
Subscribe to Journal
Get full journal access for 1 year
$199.00
only $3.90 per issue
All prices are NET prices.
VAT will be added later in the checkout.
Tax calculation will be finalised during checkout.
Rent or Buy article
Get time limited or full article access on ReadCube.
from$8.99
All prices are NET prices.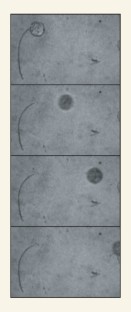 References
1

Whittaker, M. et al. Nature 378, 748–751 (1995).

2

Pease, A. R. et al. Acc. Chem. Res. 34, 433–444 (2001).

3

Kobatake, S., Takami, S., Muto, H., Ishikawa, T. & Irie, M. Nature 446, 778–781 (2007).

4

Finkelmann, H., Nishikawa, E., Pereira, G. G. & Warner, M. Phys. Rev. Lett. 87, 15501–15504 (2001).

5

Novak, K., Enkelmann, V., Wegner, G. & Wagener, K. B. Angew. Chem. Int. Edn Engl. 32, 1614–1616 (1993).

6

Köhler, W., Novak, K. & Enkelmann, V. J. Chem. Phys. 101, 10474–10480 (1994).
About this article
Cite this article
McBride, J. Crystal tennis rackets. Nature 446, 736–737 (2007). https://doi.org/10.1038/446736a