Manmohan Singh calls for India's scientists to raise their game in return for increased funding.
For several years, criticisms have been aired at India's scientific meetings and in its journals. Now the country's top politician has spoken out about the talent crisis and poor standards affecting Indian science.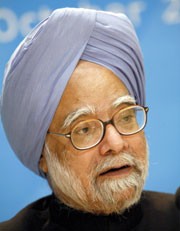 Prime Minister Manmohan Singh voiced his feelings on 3 January, when he opened the 94th Indian Science Congress (ISC) in Chidambaram in southern India. The annual meeting attracts thousands of scientists from across the country. Traditionally opened by the prime minister, it is generally an occasion to praise Indian science. But this year was different.
"While our government will do its utmost to invest in science, I call upon the scientific community to also invest its time and intellectual energy in the revitalization of our science institutions," said Singh. He added that he is "deeply concerned" about declining enrolment in basic sciences, and said that the decaying university system "needs upgrading in a massive way".
Singh was most troubled, he said, by "the decline in the standards of our research work in universities and even in advanced research institutes". For example, the return on billions of rupees invested in alternative energy sources was inadequate. "Be it [hydropower], thermal or nuclear power, we have to improve the productivity of investments already made." To raise quality, Singh warned that he may submit India's research labs to international peer review.
This is the first time that Singh has publicly criticized Indian science. His comments were apparently provoked by briefings from his science adviser, the distinguished chemist C. N. R. Rao, indicating that India publishes only 2.7% of the world's science papers (compared with China's 6%) and describing the flight of talent from government labs and universities to industry and abroad.
"In the past year our government has launched three new research institutions," he told his audience, adding that the government is considering creating more. He also vowed to increase annual expenditure on science and technology from less than 1% of gross domestic product to 2% over the next five years.
India's president A. P. J. Abdul Kalam welcomed Singh's assurance of extra science funding, but in his own address to the congress on 5 January pointed out that more than 20% of the country's science and technology budget in 2005–06 wasn't spent. He called for a plan for how future money will be used.
Rao, who heads the Jawaharlal Nehru Centre for Advanced Scientific Research in Bangalore, says attracting and keeping scientists is tough when companies offer up to six times the salary of government labs: "In two years, I lost eight of my postdocs to the General Electric Company research centre next door."
Related links
Related links
Related links in Nature Research
Related external links
About this article
Cite this article
Jayaraman, K. Indian science is in decline, says prime minister. Nature 445, 134–135 (2007). https://doi.org/10.1038/445134b
Published:

Issue Date:

DOI: https://doi.org/10.1038/445134b
Further reading
Grant Lewison
Ramesh Kundra

Scientometrics (2008)