Sound waves showcase animal pregnancy.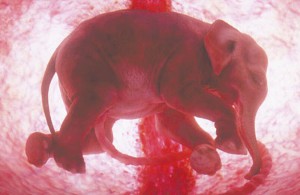 Credit: NATIONAL GEOGRAPHIC
Opening up an unseen world, this detailed ultrasound scan captures an elephant not in the wild — but in the womb. The image, which has been enhanced with computer graphics, shows a 75-kilogram elephant fetus already decked out with footpads and a trunk.
To get close enough to the fetus to generate images, ultrasonographers donned shoulder-length gloves and gave the pregnant mother an enema — before inserting an ultrasound probe up the length of her rectum. This fetus has been gestating for nearly 19 months and would have started kicking and exercising its legs about 14 months earlier. It still has three months before it is to be born.
The picture was captured as part of a documentary called In The Womb, in which ultrasound images of dolphins and puppies as well as elephants were pieced together into short films, culminating in footage of their births. The show is to be broadcast next month on the National Geographic Channel in the United States and Europe, and on Channel 4 in Britain.
The documentary also touches on the subject of evolution. At four months old, the elephant fetus temporarily develops kidney ducts normally found only in freshwater fish and frogs, hinting at its ancestors' aquatic origins.
Related links
Related links
Related external links
Rights and permissions
To obtain permission to re-use content from this article visit RightsLink.
Comments
By submitting a comment you agree to abide by our Terms and Community Guidelines. If you find something abusive or that does not comply with our terms or guidelines please flag it as inappropriate.