A powerful combination of analytical techniques is used to shed light on the complex crystallizations of porous solids. Molecular recognition creates the seeds of order from which complex lattices grow.
Access options
Subscribe to Journal
Get full journal access for 1 year
$199.00
only $3.90 per issue
All prices are NET prices.
VAT will be added later in the checkout.
Tax calculation will be finalised during checkout.
Buy article
Get time limited or full article access on ReadCube.
$32.00
All prices are NET prices.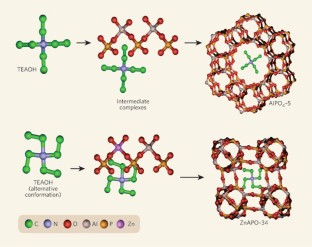 References
Beale, A. M. et al. J. Am. Chem. Soc. 128, 12386–12387 (2006).

O'Brien, M. G., Beale, A. M., Catlow, C. R. A. & Weckhuysen, B. M. J. Am. Chem. Soc. 128, 11744–11745 (2006).

Flanigan, E. M., Lok, B. M., Patton, R. L. & Wilson, S. T. in New Developments in Zeolite Science and Technology Vol. 28 (eds Murakami, Y., Ijima, A. & Ward, J. W.) 103–112 (Elsevier, Amsterdam, 1986).

Raja, R., Sankar, G. & Thomas, J. M. J. Am. Chem. Soc. 123, 8153–8154 (2001).

Barrer, R. M. & Denny, P. J. J. Chem. Soc. 971–982 (1961).

de Moor, P.-P. E. A. et al. Chem. Eur. J. 5, 2083–2088 (1999).

Davis, T. M. et al. Nature Mater. 5, 400–408 (2006).

Nokdakis, V., Kokkoli, E., Tirell, M., Tsapatsis, M. & Vlachos, M. Chem. Mater. 12, 845–853 (2000).

Kirschhock, C. E. A., Ravishankar, R., van Looveren, L., Jacobs, P. A. & Martens, J. A. J. Phys. Chem. B 103, 4972–4978 (1999).
About this article
Cite this article
van Santen, R. Porous solids get organized. Nature 444, 46–47 (2006). https://doi.org/10.1038/444046a
Published:

Issue Date:

DOI: https://doi.org/10.1038/444046a
This article is cited by
Sajan C.P.
Suresh Kumar B.V.
Amol Naik

Water Conservation Science and Engineering (2016)

Toon Verstraelen
Bartłomiej M. Szyja
Rutger A. van Santen

Topics in Catalysis (2009)