A fossil dinosaur that 'nests' with feathered relations in the dinosaur phylogenetic tree did not, it seems, have feathers. The discovery will encourage a re-evaluation of feather evolution.
Access options
Subscribe to Journal
Get full journal access for 1 year
$199.00
only $3.90 per issue
All prices are NET prices.
VAT will be added later in the checkout.
Tax calculation will be finalised during checkout.
Buy article
Get time limited or full article access on ReadCube.
$32.00
All prices are NET prices.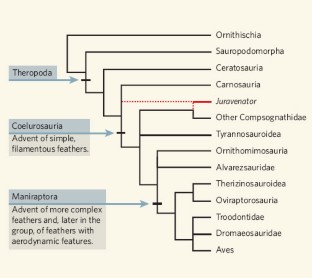 References
Norell, M. & Xu, X. Annu. Rev. Earth Planet. Sci. 33, 277–299 (2005).

Göhlich, U. B. & Chiappe, L. M. Nature 440, 329–332 (2006).

Prum, R. O. & Brush, A. H. Q. Rev. Biol. 77, 261–295 (2002).

Xu, X. Integrative Zool. (in the press).

Chen, P. J., Dong, Z. M. & Zhen, S. N. Nature 391, 147–152 (1998).

Sereno, P. C. Science 284, 2137–2147 (1999).

Norell, M. A., Clark, J. M. & Makovicky, P. J. in New Perspectives on the Origin and Evolution of Birds (eds Gauthier, J. & Gall, L. F.) 49–67 (Yale Univ. Press, 2001).

Holtz, T. R. Jr Gaia 15, 5–61 (2000).

Rauhut, O. W. M. The Interrelationships and Evolution of Basal Theropod Dinosaurs Spec. Pap. Palaeontol. 69 (Palaeont. Ass., London, 2003).

Yu, M. -K., Wu, P., Widelitz, R. B. & Chuong, C. -M. Nature 420, 308–312 (2002).

Wellnhofer, P. in Feathered Dragons — Studies on the Transition from Dinosaurs to Birds (eds Currie, P. J., Koppelhus, E. B., Shugar, M. A. & Wright, J. L.) 282–300 (Indiana Univ. Press, 2004).

Xu, X. et al. Nature 439, 715–718 (2006).
About this article
Cite this article
Xu, X. Scales, feathers and dinosaurs. Nature 440, 287–288 (2006). https://doi.org/10.1038/440287a
Published:

Issue Date:

DOI: https://doi.org/10.1038/440287a
Further reading
Michael Buchwitz
Sebastian Voigt

Paläontologische Zeitschrift (2012)

Fucheng Zhang
Zhonghe Zhou
Corwin Sullivan

Nature (2008)