When it comes to making shapes out of DNA, the material is there, and its properties are understood. What was missing was a convincing, universal design scheme to allow our capabilities to unfold to the full.
Your institute does not have access to this article
Access options
Subscribe to Journal
Get full journal access for 1 year
$199.00
only $3.90 per issue
All prices are NET prices.
VAT will be added later in the checkout.
Tax calculation will be finalised during checkout.
Buy article
Get time limited or full article access on ReadCube.
$32.00
All prices are NET prices.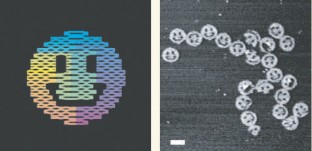 References
Rothemund, P. W. K. Nature 440, 297–302 (2006).

Watson, J. D. & Crick, F. H. Nature 171, 737–738 (1953).

Breslauer, K. J., Frank, R., Blocker, H. & Marky, L. A. Proc. Natl Acad. Sci. USA 83, 3746–3750 (1986).

Zuker, M. Nucleic Acids Res. 31, 3406–3415 (2003).

Seeman, N. C. Nature 421, 427–431 (2003).

Yan, H., Park, S. H., Finkelstein, G., Reif, J. H. & LaBean, T. H. Science 301, 1882–1884 (2003).

Rothemund, P., Papadakis, N. & Winfree, E. PLoS Biol. 2, e424 (2004).

Shih, W., Quispe, J. & Joyce, G. Nature 427, 618–621 (2004).
About this article
Cite this article
Smith, L. The manifold faces of DNA. Nature 440, 283–284 (2006). https://doi.org/10.1038/440283a
Published:

Issue Date:

DOI: https://doi.org/10.1038/440283a