Until its ugly end, 2005 had been a pretty good year for South Korea's fledgling biotech industry. The government was pouring money into biomedical research, and the Kosdaq stock market brought in changes that made it easier for biotechnology companies to go public. Many firms saw their share prices surge.
But they hit the buffers in December, when the magnitude of the scandal consuming Woo Suk Hwang, a stem-cell biologist at Seoul National University, became apparent. Early in the month, stock value crashed even for companies whose business is not directly related to stem cells, such as Macrogen (see graph), which provides tools and services for genome research. Most firms lost between a fifth and a half of their value in December alone.
The industry was so badly shaken partly because Hwang's research —much of it now discredited — had played a starring role in its ascent, insiders say. "Hwang provided the psychological effect" behind the earlier growth, says Han Oh Park, chief executive of Daejon-based Bioneer, which makes reagents and drug-discovery tools.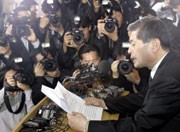 At the same time, the South Korean government's generous financial support for Hwang's work, which has totalled perhaps US$30 million, boosted investors' confidence that biomedical research in the country would yield significant results. Thanks largely to Hwang, more biotech companies expressed a specific interest in stem-cell research — and when they said as much, their stock prices rose.
Jung Seob Shin of KDB Capital, a venture-capital arm of the Korea Development Bank, argues that last month's collapse does not reflect a change in the fundamental outlook of the sector. He says that this has been improving over the past few years, and points out that in the first half of this month, many stocks have already regained ground.
Se Jong Park, president of the Korea Bio Venture Association in Seoul, goes so far as to argue that the scandal could help the industry's long-term growth, by reminding investors to look more closely at individual stocks. "What will happen during 2006 is discrimination" between good and bad companies, he predicts. Of about 600 biotechnology companies in South Korea, Park estimates that just 50 will survive in the long term.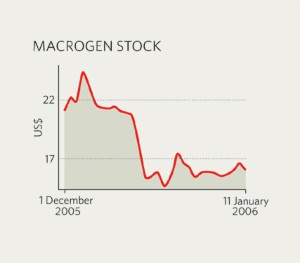 And there are still signs of confidence in Korean biotechnology. Three companies — Seoul-based gene-therapy company Viromed, Bioneer and CrystalGenomics, which makes platforms for protein crystallization — went public in late December or early January; they raised a total of US$72 million between them. "I was very worried about the impact of the scandal, but we overcame it," says Bioneer's Park.
Not everyone can expect to be so fortunate. "Fundraising will become more difficult for certain companies," says Jason Lim, who manages investment in biotech for InterVest, a venture-capital company in Seoul.
The most immediate concern for the Korean biotech industry is that the government, which increased its annual spending on biomedical research from some 380 billion won (US$380 million) in 2001 to more than 700 billion won last year, might now divert resources into rival spheres of research, such as computer science or nanotechnology. For now, the ministry of science and technology says it has no plans to slow its investment in biomedical research.
Related links
Related links
Related links in Nature Research
Related external links
About this article
Cite this article
Fuyuno, I. Hwang scandal hits Korean biotech hard. Nature 439, 265 (2006). https://doi.org/10.1038/439265a
Published:

Issue Date:

DOI: https://doi.org/10.1038/439265a