How do the lipids and proteins of the cell membrane interact to create a functioning barrier for the cell? A high-resolution structure of a membrane protein reveals intimate contacts with its lipid neighbours.
Access options
Subscribe to Journal
Get full journal access for 1 year
$199.00
only $3.90 per issue
All prices are NET prices.
VAT will be added later in the checkout.
Tax calculation will be finalised during checkout.
Buy article
Get time limited or full article access on ReadCube.
$32.00
All prices are NET prices.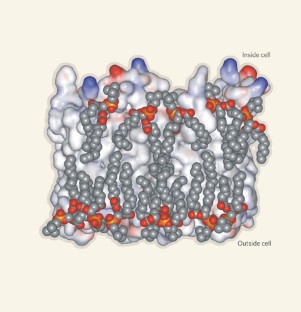 References
Gonen, T. et al. Nature 438, 633–638 (2005).

Jost, P. C., Griffith, O. H., Capaldi, R. A. & Vanderkooi, G. Proc. Natl Acad. Sci. USA 70, 480–484 (1973).

Luecke, H., Schobert, B., Richter, H. T., Cartailler, J. P. & Lanyi, J. K. J. Mol. Biol. 291, 899–911 (1999).

Gonen, T., Sliz, P., Kistler, J., Cheng, Y. & Walz, T. Nature 429, 193–197 (2004).

Zampighi, G., Simon, S. A., Robertson, J. D., McIntosh, T. J. & Costello, M. J. J. Cell Biol. 93, 175–189 (1982).

Pascher, I., Lundmark, M., Nyholm, P. G. & Sundell, J. Biochim. Biophys. Acta 1113, 339–373 (1992).

Murata, T., Yamato, I., Kakinuma, Y., Leslie, A. G. W. & Walker, J. E. Science 308, 654–659 (2005).

Lee, A. G. Biochim. Biophys. Acta 1612, 1–40 (2003).
About this article
Cite this article
Lee, A. A greasy grip. Nature 438, 569–570 (2005). https://doi.org/10.1038/438569a
Published:

Issue Date:

DOI: https://doi.org/10.1038/438569a