These Arctic animals abandon their daily rhythms when it is dark all day or light all night.
Abstract
The light/dark cycle of day and night synchronizes an internal 'biological clock' that governs daily rhythms in behaviour, but this form of regulation is denied to polar animals for most of the year. Here we demonstrate that the continuous lighting conditions of summer and of winter at high latitudes cause a loss in daily rhythmic activity in reindeer living far above the Arctic Circle. This seasonal absence of circadian rhythmicity may be a ubiquitous trait among resident polar vertebrates.
This is a preview of subscription content
Access options
Subscribe to Journal
Get full journal access for 1 year
$199.00
only $3.90 per issue
All prices are NET prices.
VAT will be added later in the checkout.
Tax calculation will be finalised during checkout.
Buy article
Get time limited or full article access on ReadCube.
$32.00
All prices are NET prices.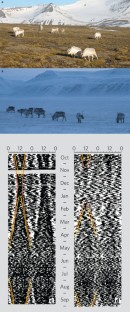 References
Lowrey, P. L. & Takahashi, J. S. Annu. Rev. Genom. Hum. Genet. 4, 407–441 (2004).

Daan, S & Aschoff, J. in Circadian Clocks (eds Takahashi, J. S. et al.) 7–43 (Plenum, New York, 2001).

de Mairan, J. J. in Histoire de l'Académie Royale des Sciences 35–36 (Paris, 1729).

Gerkema, M. P. in Biological Rhythms (ed. Kumar, V.) 207–215 (Narosa, New Dehli, 2002).

Stokkan, K. A., Mortensen, A. & Blix, A. S. Am. J. Physiol. 251, 264–267 (1986).

Reierth, E., van't Hof, T. & Stokkan, K. A. J. Biol. Rhyth. 14, 314–319 (1999).

Stokkan, K. A., Tyler, N. J. C. & Reiter, R. J. Can. J. Zool. 72, 904–909 (1994).

Hau, M. & Gwinner, E. Physiol. Behav. 58, 89–95 (1995).

Hut, R. A., Van der Zee, E. A., Jansen, K., Gerkema, M. P. & Daan, S. J. Comp. Physiol. B 172, 59–70 (2002).
Ethics declarations
Competing interests
The authors declare no competing financial interests.
Supplementary information
About this article
Cite this article
van Oort, B., Tyler, N., Gerkema, M. et al. Circadian organization in reindeer. Nature 438, 1095–1096 (2005). https://doi.org/10.1038/4381095a
Published:

Issue Date:

DOI: https://doi.org/10.1038/4381095a
Comments
By submitting a comment you agree to abide by our Terms and Community Guidelines. If you find something abusive or that does not comply with our terms or guidelines please flag it as inappropriate.