A plan to restore animals that disappeared 13,000 years ago from Pleistocene North America offers an alternative conservation strategy for the twenty-first century, argue Josh Donlan and colleagues.
Access options
Subscribe to Journal
Get full journal access for 1 year
$199.00
only $3.90 per issue
All prices are NET prices.
VAT will be added later in the checkout.
Tax calculation will be finalised during checkout.
Rent or Buy article
Get time limited or full article access on ReadCube.
from$8.99
All prices are NET prices.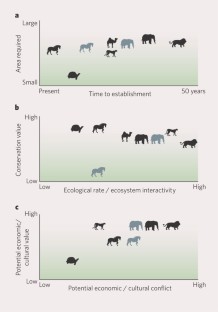 References
1

Lonsdale, R. E. & Archer, J. C. J. Geogr. 97, 108–122 (1998).

2

Janzen, D. H. & Martin, P. S. Science 215, 19–27 (1982).

3

Byers, J. A. American Pronghorn: Social Adaptations and the Ghosts of Predators Past (Chicago Univ., Chicago, 1997).

4

Duffield, W. J. & Neher, C. J. Economics of Wolf Recovery in Yellowstone National Park. Transactions of the 61st North American Wildlife and Natural Resources Conference 285–292 (Wild Mgmt. Inst., Washington DC, 1996).

5

Phillips, A., Heucke, J., Dorgers, B. & O'Reilly, G. Co-grazing Cattle and Camels. A report for the Rural Industries Research and Development Corporation (Rural Industries Research and Development Corporation, Kingston, 2001).

6

Tordoff, H. B. & Redig, P. T. Conserv. Biol. 15, 528–532 (2001).

7

Schmidly, D. J. Texas Natural History: A Century of Change (Texas Tech Univ. Press, Lubbock, 2002).
Acknowledgements
We thank the Environmental Leadership Program, Lichen Foundation, Turner Endangered Species Fund, New Mexico Agricultural Station, Ladder Ranch, C. Buell., S. Dobrott, T. Gorton, M. K. Phillips and J. C. Truett for support and encouragement.
About this article
Cite this article
Donlan, J. Re-wilding North America. Nature 436, 913–914 (2005). https://doi.org/10.1038/436913a
Further reading
Luísa Genes

,

Jens-Christian Svenning

,

Alexandra S. Pires

&

Fernando A. S. Fernandez

Biodiversity and Conservation (2019)

David A. Steen

,

Kyle Barrett

,

Ellen Clarke

&

Craig Guyer

Biology & Philosophy (2017)

NanoEthics (2014)