Reagents may be slow to arrive, but the freedom to explore his own research interests more than compensates. Satyajit Mayor is thriving in India.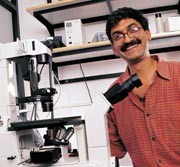 "It can never be the same as doing science in America." This was the near-unanimous response from my peers when, in late 1995, I announced my decision to move back to India from the United States. By then, I had spent nearly 11 years in America, first as a graduate student at Rockefeller University and then as a postdoctoral fellow at Columbia University.
Like most expatriates who long to return home, I had planned for many years to return to India — but I kept putting it off. I worried that my career in India would become marked by obscurantist science, an ossified research set-up and cash-strapped institutes; that I would be surrounded by mediocre science and scientists; and that I would have to wait for weeks for supplies that can be in summoned in New York within a day.
Happily, I was wrong on most counts.
And I'm not the only one. Like me, many other researchers are choosing to return home, and they're leading productive lives at the many small-sized institutions that are committed to competing in the international arena.
The National Centre for Biological Sciences (NCBS) in Bangalore recruited me in 1995, and I have remained here ever since. The centre was set up in 1992 as an arm of the Mumbai-based Tata Institute of Fundamental Research. The founding director, noted Drosophila geneticist Obaid Siddiqi, wanted to establish an institute where a diverse group of people with distinct approaches to biology could do world-class research. I knew from the beginning that this would be a good place.
Since its launch, the institute has moved into a much bigger campus and hopes to grow from its current 15 research groups to a full capacity of around 40 teams. Together, NCBS researchers published 60 papers in 2004, including 18 in high-impact journals such as Nature and Cell (see table).
The institute's current director, K. VijayRaghavan, is generous to a fault, and accommodates the most outrageous of whims of his colleagues in the interest of furthering science. Most laboratories at the institute are engaged in research on different biological scales — from understanding the structure of molecules to the evolution of behaviour. My own lab aims to unravel the molecular mechanisms of endocytosis, the process by which cells internalize viruses or molecules, using a multidisciplinary approach that combines biology, physics and chemistry.
Being a researcher in India is not as difficult as I had expected. In some ways, my transition from being a privileged graduate student at Rockefeller University to a postdoctoral fellow at Columbia University was more of a culture shock than my move to the NCBS, where the scope of my research is limited only by my imagination. More difficult was the adjustment to life in an Indian city after living in New York. I was also not looking forward to confronting the depressing political reality in India at the time. (Happily, things have changed for the better, thanks to India's democratic tradition.) But exciting scientific interactions at the NCBS and elsewhere in India have been more than adequate compensation for these travails.
When I joined the NCBS, my area of research, cell biology, was not yet the focus of much study there: protein structure and developmental neurobiology were more in vogue. I had trained almost entirely outside India so I had very different expectations when I arrived, but I was able to shape my environment as much as it shaped me. For example, my colleagues and I have helped to create an administrative structure that is both efficient and responsive to our needs. This is something most scientists in developed countries might take for granted, but revising the old bureaucracy-ridden model is an important step forward for Indian science.
Upon arrival, my priority was to set up my laboratory, and the NCBS seemed to share this emphasis, something that is rare at most Indian institutes. Still, some of my fears were legitimate. When I was at Columbia University, for instance, I could simply pick up the phone and have reagents instantly delivered to my bench. Here, it can take up to four weeks depending on where the manufacturer is located.
Another formidable challenge is convincing customs officials that my high-resolution cameras need not be exposed to the elements while numerous public holidays pass by. Things have changed for the better as suppliers have set up shop in or near Bangalore, but there is much room for improvement.
For the majority of Indian researchers, publication in prestigious international journals is as much a marker of success as it is elsewhere. But scientists here have not been able to fully meet this goal.Most of my colleagues in India believe that this is, partly, the result of a bias, conscious or unconscious, against Indian science. The critical mass of biologists — except perhaps in protein chemistry (see page 494) — in India is too small to have any visibility in international publishing. The lack of name recognition may make it easier to dismiss exceptional and controversial work from unfamiliar institutions.
At many of the biology-based institutions in India, almost all the work is done by graduate students, and they can take up to four years to become productive. This is the result of an educational system that prevents students from getting their hands wet, partly because the system does not value experimental training and partly because of a genuine lack of resources. One reason for this is a bias against manual work among the élite classes who populate the universities. Fortunately, this seems to be changing (see page 487).
Although the graduate-student pool generates a group of committed researchers, the lack of a vibrant postdoctoral research culture is the sign of an unsophisticated research community. Some institutions in India are beginning to recruit postdocs from around the world, albeit slowly. But even among Indian students, going abroad to train is still the most attractive option. The handsome salaries offered by research positions in Europe and the United States are no small factor in their decision. More attractive salaries would go a long way to retaining researchers in India.
At 1.1% of the gross domestic product, India's budget for science is woefully inadequate. But the government has pledged to increase this to 2% by 2007. Already, funding opportunities for biological sciences in India are at an all-time high. Several agencies fund projects and any well-structured proposal has a high chance of getting funded.
In addition, researchers have access to international agencies. The arrival of the Wellcome Trust in India six years ago wooed many young talented researchers back to India (see 'Wellcome funding'). Such international agencies have helped bridge the gap between the salaries in India and more developed countries.
Wellcome Trust fellows are required to provide frequent research reports and attend meetings to evaluate progress, which ensures that they stay focused. A major flaw in India's system is that the funding agencies seem to expect little intellectual return on their investment, which can breed complacency.
One of the biggest attractions as a scientist in India today is the freedom to take on unusual and innovative projects without much interference. Because the pool of active researchers is small, it fosters truly multidisciplinary collaborative links. I have been able to forge meaningful collaborations with a condensed-matter physicist, a fruitfly geneticist interested in neuronal conduction and a physiologist of the immune system.
India's biological research enterprise requires a broad and visibly multidisciplinary scientific base. Institutions such as the NCBS can help accomplish this goal. Another ten similar institutions could completely transform the nature and quality of biological sciences in India. If these institutes then form productive alliances with universities, they could tap into India's vast student pool. At the very least, this could boost the woefully underfunded and often stifling university departments. The much touted biotech revolution in India may even acquire well-trained scientific personnel and a semblance of reality.
In an encouraging development, the government in February this year announced a US$250-million National Science and Engineering Research Fund to fund basic research in India. The goal is to establish two integrated universities to teach and train a new breed of basic scientist, the most important resource for a productive scientific future.
About this article
Cite this article
Mayor, S. Coming home. Nature 436, 488–489 (2005) doi:10.1038/436488a
Comments
By submitting a comment you agree to abide by our Terms and Community Guidelines. If you find something abusive or that does not comply with our terms or guidelines please flag it as inappropriate.