Doubts raised over validity of ivory-bill woodpecker report.
It was touted as the conservation discovery of a lifetime — an ivory-billed woodpecker, a bird long thought to be extinct, spotted in the Arkansas swamps. But now the finding is being called into question, which could cast doubt on several prominent US conservation measures.
In April, biologists and bird-lovers were thrilled by a videotape, reported in Science by ornithologist John Fitzpatrick of Cornell University in Ithaca, New York, of what looked to be an ivory-billed woodpecker (Campephilus principalis). The species hadn't been confirmed in the United States since 1944, although there had been rare sightings in Cuba. The bird gradually vanished as its dense forest habitat was chopped down, making it a symbol of lost heritage.
So leading US officials, including the secretaries of the interior and agriculture, jumped at the chance to announce the bird's apparent rediscovery. They re-routed $10 million from other conservation measures to pay for efforts to save the bird's vanishing habitat. These changes came swiftly, even though some in the Bush administration and Congress have been working to reduce species protections under the US Endangered Species Act.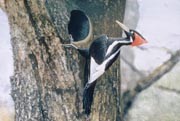 But the investment may be premature, a new study suggests. A team of ornithologists led by Richard Prum of Yale University in New Haven, Connecticut, plans to report what it thinks is a case of mistaken identity. The bird described in Science, the group says, is not an ivory-billed woodpecker after all, but a non-endangered relative, the pileated woodpecker (Dryocopus pileatus).
Prum's team includes the leading US authority on ivory-billed woodpeckers, Jerome Jackson of Florida Gulf Coast University in Fort Myers, who for decades has been unable to document a sighting. "I have serious questions about the Science report," Jackson told Nature in May.
Prum and his colleagues scrutinized the Cornell team's video, and believe that the bird's size and white markings suggest that it could be a pileated woodpecker, rather than an ivory-billed woodpecker. The Cornell team had considered this possibility and discounted it.
Prum declined to discuss details of his manuscript until it is published in PLoS Biology. The third author of the paper is Mark Robbins, an ornithologist at the University of Kansas in Lawrence.
Fitzpatrick and other co-authors of the Science paper also declined to comment. PLoS Biology plans to publish a response from the Cornell team, and a response to that from Prum's group. All three papers are expected to go online within a month.
Despite the challenge to the sighting, conservationists plan to meet in Little Rock on 2 August to discuss how to save the woodpecker's home forests.
Related links
Related links
Related links in Nature Research
Related external links
About this article
Cite this article
Dalton, R. Sighting of 'extinct' bird may have been a case of mistaken identity. Nature 436, 447 (2005) doi:10.1038/436447a
Further reading
H.R. Akçakaya

,

David A. Keith

,

Mark Burgman

,

Stuart H.M. Butchart

,

Michael Hoffmann

,

Helen M. Regan

,

Ian Harrison

&

Elizabeth Boakes

Biological Conservation (2017)
Comments
By submitting a comment you agree to abide by our Terms and Community Guidelines. If you find something abusive or that does not comply with our terms or guidelines please flag it as inappropriate.