Global report highlights how ecology and the environment affect business.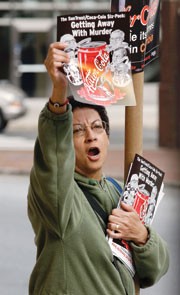 Ecological conservation isn't exactly the number one priority in most corporate board rooms. But an international effort is under way to get large companies to start thinking seriously about ecosystems.
Next week, the Millennium Ecosystem Assessment — a global audit sponsored by, among other agencies, the United Nations and the World Bank — will release a 30-page report on why ecology matters in business planning.
The main millennium assessment report, released in March, stressed that more than half of the 'ecosystem services' that support human activities are being tapped in an unsustainable way. The new supplement argues that corporations should be preparing now for the depletion of those natural services.
It says that six major environmental trends — water scarcity, climate change, habitat change, biodiversity loss and invasive species, ocean exploitation and nutrient overloading — will each profoundly affect business. Resultant commercial opportunities exist in industries as diverse as energy, agriculture and tourism, the report contends.
"This is about providing a set of tools so that people can make better decisions," says Jonathan Lash, president of the World Resources Institute (WRI), the Washington-based environmental group that prepared the assessment reports.
Some critics argue that the new report is a missed opportunity, as it lacks specific examples that might entice industrial interest in ecosystem services. But the Geneva-based World Economic Forum, which represents 1,000 of the world's largest companies, says its members will find it useful for planning.
"For every risk, there's an opportunity for a producer to reduce that risk," explains Lash. For example, future regulation is likely to control the overuse of nitrogen fertilizers, run-off from which is triggering dead zones in the sea. This will create demand for better fertilization techniques, as well as for tools to monitor run-off.
But of all the resources associated with ecosystem services, it is water supply that promises to present the most volatile issues. Coca-Cola, for example, has already been banned from using groundwater for its bottling operations in India. To address the issue, and avoid negative publicity, Coca-Cola is preparing a plan for sustainable water use for all of its global plants. "As a hydration company, we have to do something," says Harry Ott, the company's director of water resources, based in Atlanta, Georgia.
The need to address sustainability issues has "quietly crept onto the centre stage" over the past few years, says Jim Harmon, chairman of the WRI. But the authors of the report admit that there aren't many mechanisms in place to force action on ecological issues. Instead, they are counting on the emergence of market-based mechanisms, such as 'cap-and-trade' schemes to restrict pollution or encourage conservation.
The WRI plans to follow up the report by working with business to incorporate ecosystem services into such mechanisms. One established example in the United States has created an active market in wetland conservation: developers must procure and conserve areas of wetland to compensate for other areas they have built over.
Similar markets for water purification and biodiversity are steadily growing in scope, says Ricardo Bayon, managing editor of the Ecosystem Marketplace, a website based in Washington DC. Mexico and Malaysia, for example, have begun pilot programmes that will pay farmers to manage their land to protect watersheds. "We're at the tipping point," says Bayon. "We are going to see a lot more of these mechanisms used."
Related links
Related links
Related links in Nature Research
Related external links
About this article
Cite this article
Gewin, V. Industry lured by the gains of going green. Nature 436, 173 (2005). https://doi.org/10.1038/436173a
Comments
By submitting a comment you agree to abide by our Terms and Community Guidelines. If you find something abusive or that does not comply with our terms or guidelines please flag it as inappropriate.