Synchrotron X-rays have been used to reveal long-lost writings from the tenth century.
The Archimedes Palimpsest is the earliest transcription of the theories of the legendary Greek mathematician, and the original text detailed his method of mechanical theorems. In the twelfth century the parchment was scraped clean and reused — a common practice to conserve the expensive material. It was turned into a prayer book, but the original writings survive as ghostly outlines beneath the prayers.
They can mostly be read using ultraviolet light, but some pages are also obscured by twentieth-century forgeries of medieval art (see picture). So researchers at the Stanford Synchrotron Radiation Laboratory in Menlo Park, California, used synchrotron X-rays on the piece. These cause the iron in the ink to fluoresce, creating a sharp image (see inset) of the priceless text.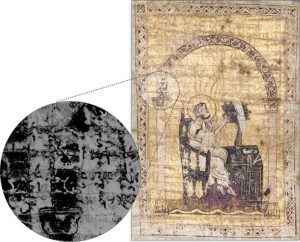 About this article
Cite this article
Eureka moment as X-rays slice through forgery. Nature 435, 257 (2005). https://doi.org/10.1038/435257a
Further reading
Bogdan F. Gh. Popescu

,

Christopher A. Robinson

,

L. Dean Chapman

&

Helen Nichol

The Cerebellum (2009)

Bogdan F Gh Popescu

,

Martin J George

,

Uwe Bergmann

,

Alex V Garachtchenko

,

Michael E Kelly

,

Richard P E McCrea

,

Katharina Lüning

,

Richard M Devon

,

Graham N George

,

Akela D Hanson

,

Sheri M Harder

,

L Dean Chapman

,

Ingrid J Pickering

&

Helen Nichol

Physics in Medicine and Biology (2009)
Comments
By submitting a comment you agree to abide by our Terms and Community Guidelines. If you find something abusive or that does not comply with our terms or guidelines please flag it as inappropriate.