Despite some benefits, few are convinced that research standards will rise.
Last year, the Japanese government drastically reformed the country's university system. It stripped researchers of fixed benefits, but increased their freedom and independence — in the hope of making science more competitive. The government has just released the first survey on what researchers think of the changes, and the results suggest that they are unimpressed.
Before April 2004, the activities of national universities were tightly controlled by the education ministry, but scientists had secure funding, with guaranteed employment for life. Then, in the biggest reforms since the Second World War, universities were given semi-autonomous status. Researchers are now freer to collaborate with industry, and university presidents have much more freedom to decide how to spend their budgets. But institutes and researchers alike must earn their money — competing to win research grants on merit.
Reformers hoped that the change would reward promising young scientists in a system that has been crowded with unproductive professors (Nature 429, 207–221; 2005). But has it worked? To find out, the education ministry polled 2,000 researchers at universities, and at the public research institutes that have been going through similar reforms since 2001.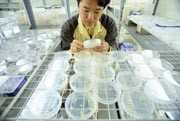 A spokesman at the education ministry describes the results as "mixed". On the positive side, 44% of the respondents say they are more willing to present their work outside their own labs in order to build closer relations with the public. And about 30% say they find it easier to work with private companies.
But many doubt whether the changes will raise overall standards in Japanese research. Only about 10% agree that research support is better or more flexible, and that research facilities have been improved by the changes. The fact that researchers have to compete for research grants has also not gone down particularly well.
About half of the respondents say that projects that meet specific industrial needs or lie in the government's strategic areas are more likely to be given money. Although this is what reformers were hoping to achieve, it leads many to express concern that important research fields are being ignored.
Kotoku Kurachi, a molecular biologist at the National Institute of Advanced Industrial Science and Technology in Tsukuba, believes that the reforms will help Japan to compete with countries such as the United States. But he says that unless the country's opaque grant system is overhauled, the changes will be in vain. "If we don't establish fair rules, it could get worse than ever."
Comments
By submitting a comment you agree to abide by our Terms and Community Guidelines. If you find something abusive or that does not comply with our terms or guidelines please flag it as inappropriate.