State funding for stem-cell research delayed by red tape.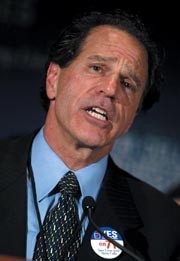 Biologists anticipating a stem-cell gold rush in California will have to wait a little longer, as a string of setbacks is slowing the state's plans to jump-start such research.
California's voters agreed last November to bankroll a $3-billion, decade-long initiative for research on stem cells, and backers had hoped that the first research grants would appear by May of this year. But the initiative has come under mounting political and legal fire. Its leaders, facing the daunting task of building a substantial research agency from scratch, now concede that grants won't begin to go out until autumn, at the earliest.
The stem-cell ballot measure, known as Proposition 71, was drafted by Bob Klein, a property developer whose son suffers from juvenile diabetes. Klein is determined to get money into scientists' hands as quickly as possible. "We need to do our best with a responsible but aggressive schedule," he told Nature in late February.
To minimize red tape, Proposition 71 made supervision of the new agency, the California Institute for Regenerative Medicine (CIRM), the responsibility of a 29-person citizens' committee. Klein was quickly installed as committee chairman. But critics have attacked what they say is a lack of transparency in the committee's procedures, and have raised concerns about conflicts of interest. Committee members include major players in the biotechnology industry and leaders of academic institutions that are likely to apply for CIRM funding.
On 14 March, Bill Lockyer, the state attorney-general, acknowledged in a legal brief that the sale of bonds to finance the CIRM cannot begin until two lawsuits challenging its constitutional legality have been resolved. The suits have been brought by taxpayer groups and opponents of stem-cell research, and will put any grant-making on hold.
Two days later, state legislators announced moves to open up the CIRM to greater public scrutiny, and to restrict donations of human eggs for research. State senators Deborah Ortiz, a Democrat, and George Runner, a Republican, are proposing a constitutional amendment that would tighten the CIRM's conflict-of-interest rules, and force Klein's committee to hold all of its meetings in public. To pass, the amendment requires a two-thirds majority in both houses of the California legislature, and must then win support in a public ballot.
Ortiz and Runner are also proposing a three-year moratorium on women donating multiple eggs for research. The supply of human eggs is the chief limiting factor in cloning research. "It'll be a problem if there are no egg donors," warns Lawrence Goldstein, who studies neurodegenerative diseases at the University of California, San Diego.
The proposed legislation could still allow some eggs to be donated by women who are undergoing in vitro fertilization. If so, says Evan Snyder, a stem-cell researcher at the Burnham Institute in La Jolla, it should be possible to begin cloning studies. But as Nature went to press, the precise wording of the bill had not been released.
CIRM officials say that Ortiz and Runner's planned constitutional amendment will not affect the awarding of grants. But the lawsuits could cause delay. The suits contend that the CIRM is unconstitutional because it sidesteps state laws on governance and conflicts of interest. Lockyer has asked the Supreme Court of California to deal with the suits quickly, but it is unclear when they will be resolved.
Even before these developments, the practical challenges of establishing a new granting agency from the ground up had forced the CIRM to retreat from the idea of issuing grants in May. The first grants would go to institutions to allow them to hire graduate students and postdoctoral researchers. Zach Hall, an experienced science administrator who is the CIRM's interim president, told reporters on 15 March that such grants are unlikely to be approved until after the summer, irrespective of developments in court.
Related links
Related links
Related links in Nature Research
Related external links
About this article
Cite this article
Aldhous, P. Lawsuits and logistics tie up California's stem-cell funds. Nature 434, 427 (2005). https://doi.org/10.1038/434427a
Comments
By submitting a comment you agree to abide by our Terms and Community Guidelines. If you find something abusive or that does not comply with our terms or guidelines please flag it as inappropriate.