Activists battle researchers over upcoming animal-welfare law.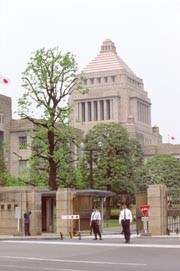 Animal-welfare activists are locking horns with researchers in Japan over how strictly the use of animals in the country's labs should be controlled.
Friction has built up because the Japanese parliament is preparing an updated version of the 1973 animal-welfare law, which is expected to pass by June (see Nature 430, 714; 2004 10.1038/430714a). Animal-welfare campaigners want to introduce legally binding restrictions on experiments, but researchers advocate voluntary guidelines instead.
Mounting public concern has put pressure on parliament to strengthen legislation. The current system is based on "guesswork" about what is happening in laboratories, Seichi Kaneda, a member of the main opposition party, the Democratic Party of Japan, told a hearing in Tokyo on 24 February.
At the moment, general guidelines are enforced by the environment ministry on the basis of the 1973 law. But ethical questions relating to specific experiments, such as whether animals need to be used in the way proposed by the researchers, are dealt with by the ministries funding the research.
Researchers acknowledge that the system could be improved. A representative of the Science Council of Japan (SCJ), a coalition of scientific societies, told the hearing that Japan has a reputation "as an outlaw country without rules". The representative — a neuroscientist who asked not to be identified for fear of harassment by animal-welfare groups — said that Japan should implement voluntary guidelines that would cover industrial as well as academic labs.
The guidelines proposed by the SCJ would require institutions to set up committees to monitor animal experiments. They would also call for greater use of third-party accreditation of labs by bodies such as the US-based Association for Assessment and Accreditation of Laboratory Animal Care International.
The SCJ says that if these guidelines were in place, there would be no need for legally binding regulation of animal experiments, which it claims might be implemented arbitrarily by local government officials.
But animal-rights groups, such as All Life in a Viable Environment (ALIVE), say that self-regulation by researchers is not enough. A survey carried out by ALIVE last September showed that most university medical departments don't even keep track of the number of animals used. "They just want to avoid any kind of accountability," says ALIVE director Fusako Nogami.
The revised law should at least contain a registration system that requires experimental facilities or researchers to inform a government authority that an experiment will be carried out, says Nogami.
Most other countries have much stricter regulations. Britain requires labs to be licensed if they do animal experiments. The United States combines legal measures (including unannounced visits that can result in fines) with voluntary guidelines.
Japan's Democratic party hopes that negotiations with members of the ruling coalition will produce a more restrictive draft of the law. Momentum for reform is apparently strong, although the civil service and the powerful Liberal Democratic party seem to be less enthusiastic about such restrictions.
Related links
Related links
Related links in Nature Research
Related external links
About this article
Cite this article
Cyranoski, D. Japanese call for more bite in animal rules. Nature 434, 6 (2005). https://doi.org/10.1038/434006a
Further reading
Nick Gales

,

Russell Leaper

&

Vassili Papastavrou

Marine Policy (2008)
Comments
By submitting a comment you agree to abide by our Terms and Community Guidelines. If you find something abusive or that does not comply with our terms or guidelines please flag it as inappropriate.