Indian scientists say China is denying access to dammed river
Landslides on the India–China border have created a lake holding millions of cubic metres of water. Scientists and engineers in the region are puzzling over how to avoid a catastrophic collapse of the lake wall, but Indian researchers say their plans have been hampered by China's refusal to allow them to visit the site.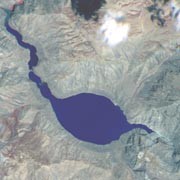 The Chinese government warned on 11 August that landslides had blocked the Pare Chu river in Tibet, creating a lake about 40 metres deep and holding 60 million cubic metres of water. China said it was evacuating people downstream and advised India to do the same. The river enters India about 35 kilometres from the lake and, as the Sutlej, continues past several towns in Himachal Pradesh.
According to Muthaia Perumal, a hydrologist at the Indian Institute of Technology (IIT) in Roorkee, the water will rush into a narrow gorge should the lake wall break. "It will not be like floods in the plains where water can spread out," he says. "We expect a huge wall of water moving in bulk without its height diminishing."
Creating tunnels in the lake wall could have provided an exit for the accumulating water had measures been taken when the landslides occurred in early July, says Manoj Datta, a civil engineer at the IIT in Delhi. "Now the dam is overflowing it is too risky to try anything," he adds. The Indian government has evacuated 50,000 people from the danger zone.
Indian researchers regret that a joint strategy was not put in place early on, but the Indian government said on 13 August that a request to China for permission to send scientists and engineers to the site had been rebuffed. The Chinese government says the site is difficult to reach and is briefing Indian authorities on progress made by its own team at the lake. Chinese hydrologists working on the lake could not be reached for comment.
Related links
Related links
Related links in Nature Research
Related external links
About this article
Cite this article
Jayaraman, K. Crisis foments as unstable lake builds in the Himalayas. Nature 430, 818 (2004). https://doi.org/10.1038/430818a