Pinyon jays seem to work out how to behave towards an unfamiliar jay by watching it in encounters with members of their own flock. The findings provide clues about how cognition evolved in social animals.
Access options
Subscribe to Journal
Get full journal access for 1 year
$199.00
only $3.90 per issue
All prices are NET prices.
VAT will be added later in the checkout.
Tax calculation will be finalised during checkout.
Buy article
Get time limited or full article access on ReadCube.
$32.00
All prices are NET prices.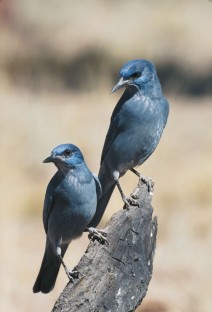 References
Shettleworth, S. J. Cognition, Evolution, and Behavior (Oxford Univ. Press, 1998).

Paz-y-Miño, C. G., Bond, A. B., Kamil, A. C. & Balda, R. P. Nature 430, 778–781 (2004).

Vignal, C., Mathevon, N. & Mottin, S. Nature 430, 448–451 (2004).

Jolly, A. Science 153, 501–506 (1966).

Kamil, A. C. Trends Cogn. Sci. 8, 195–197 (2004).

de Waal, F. B. M. & Tyack, P. L. (eds) Animal Social Complexity (Harvard Univ. Press, Cambridge, 2003).

McGonigle, B. O. & Chalmers, M. Nature 267, 694–696 (1977).

Bond, A. B., Kamil, A. C. & Balda, R. P. Anim. Behav. 65, 479–487 (2003).

Weir, A. A. S., Chappell, J. & Kacelnik, A. Science 297, 981 (2002).

Clayton, N. S. & Dickinson, A. Nature 395, 272–274 (1998).
About this article
Cite this article
Shettleworth, S. Rank inferred by reason. Nature 430, 732–733 (2004). https://doi.org/10.1038/430732b
Published:

Issue Date:

DOI: https://doi.org/10.1038/430732b