Abstract
The wild chimpanzees in Gombe National Park, Tanzania, fish for termites with flexible tools that they make out of vegetation, inserting them into the termite mound and then extracting and eating the termites that cling to the tool1. Tools may be used in different ways by different chimpanzee communities according to the local chimpanzee culture2. Here we describe the results of a four-year longitudinal field study in which we investigated how this cultural behaviour is learned by the community's offspring. We find that there are distinct sex-based differences, akin to those found in human children, in the way in which young chimpanzees develop their termite-fishing skills.
This is a preview of subscription content
Access options
Subscribe to Journal
Get full journal access for 1 year
$199.00
only $3.90 per issue
All prices are NET prices.
VAT will be added later in the checkout.
Tax calculation will be finalised during checkout.
Rent or Buy article
Get time limited or full article access on ReadCube.
from$8.99
All prices are NET prices.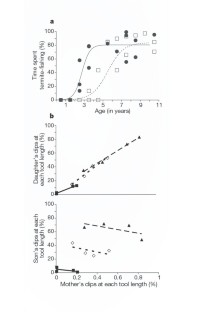 References
1

Goodall, J. Symp. Zool. Soc. Lond. 10, 39–48 (1963).

2

Whiten, A. et al. Nature 399, 682–685 (1999).

3

McGrew, W. C. Chimpanzee Material Culture: Implications for Human Evolution (Cambridge Univ. Press, Cambridge, 1992).

4

McCulloch, C. E. & Searle, S. R. Generalized, Linear, and Mixed Models (Wiley, New York, 2000).

5

Boesch, C. Anim. Behav. 41, 530–532 (1991).

6

Hastie, T. J. & Tibshirani, R. J. Generalized Additive Models (Chapman & Hall, London, 1990).

7

Blote, A. W. & Van Gool, H. J. Hum. Mov. Stud. 17, 133–152 (1989).

8

Blote, A. W. & Van Haasteren, R. J. Hum. Mov. Stud. 17, 187–205 (1989).

9

Warrick, P. & Naglieri, J. J. Edu. Psychol. 85, 693–701 (1993).

10

Vederhus, L. & Krekling, S. Intelligence 23, 33–43 (1996).

11

Davis, P. L. & Rose, J. D. Phys. Occup. Ther. Ped. 20, 19–42 (2000).
Ethics declarations
Competing interests
The authors declare no competing financial interests.
Supplementary information
Includes supplementary information on field data collection, videotape analyses and statistical methods. (DOC 24 kb)
About this article
Cite this article
Lonsdorf, E., Eberly, L. & Pusey, A. Sex differences in learning in chimpanzees. Nature 428, 715–716 (2004). https://doi.org/10.1038/428715a
Comments
By submitting a comment you agree to abide by our Terms and Community Guidelines. If you find something abusive or that does not comply with our terms or guidelines please flag it as inappropriate.