Data on the chimpanzee genome help in detecting differential selection on individual genes, and in judging whether normal microevolutionary processes are sufficient to account for human origins.
Access options
Subscribe to Journal
Get full journal access for 1 year
$199.00
only $3.90 per issue
All prices are NET prices.
VAT will be added later in the checkout.
Tax calculation will be finalised during checkout.
Buy article
Get time limited or full article access on ReadCube.
$32.00
All prices are NET prices.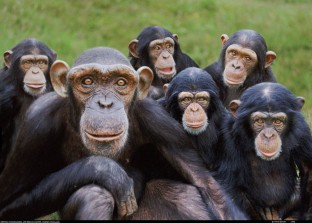 References
Clark, A. G. et al. Science 302, 1960–1963 (2003).

Riddiford, A. & Penny, D. in Evolutionary Theory: Paths into the Future (ed. Pollard, J. W.) 1–38 (Wiley, New York, 1984).

Mayr, E. One Long Argument: Charles Darwin and the Genesis of Modern Evolutionary Thought (Harvard Univ. Press, Cambridge, MA, 1991).

Aiello, L. C. & Wells, J. C. K. Annu. Rev. Anthropol. 31, 323–338 (2002).

Gilad, Y., Bustamante, C. D., Lancet, D. & Pääbo, S. Am. J. Hum. Genet. 73, 489–501 (2003).

King, M. C. & Wilson, A. C. Science 188, 107–116 (1975).

Enard, W. et al. Science 296, 340–343 (2002).

Kimura, M. & Ohta, T. Proc. Natl Acad. Sci. USA 71, 2848–2852 (1974).

Carroll, S. B. Nature 422, 849–857 (2003).

Wildman, D. E., Uddin, M., Liu, G., Grossman, L. I. & Goodman, M. Proc. Natl Acad. Sci. USA 100, 7181–7188 (2003).

Arnason, U., Gullberg, A., Schweizer Burguete, A. & Janke, A. Hereditas 133, 217–228 (2000).

Lynch, M. et al. Evolution 53, 645–663 (1999).
About this article
Cite this article
Penny, D. Our relative genetics. Nature 427, 208–209 (2004). https://doi.org/10.1038/427208a
Issue Date:

DOI: https://doi.org/10.1038/427208a