Abstract
The basal rate of metabolism of birds and mammals is the lowest rate that is compatible with endothermic temperature regulation, balancing the heat generated with the heat lost by the product of thermal conductance and the temperature differential with the environment1. Here I measure the bioenergetics of 13 species and 9 genera of birds of paradise (Paradisaeidae) and show that 99% of the variation in their basal rates of metabolism can be accounted for by interspecific variation in body mass, food habits and altitudinal distribution. These findings, which are derived from 31% of the species and 53% of the genera in this family, give the most complete picture of the standard energetics of any diverse family of birds.
Access options
Subscribe to Journal
Get full journal access for 1 year
$199.00
only $3.90 per issue
All prices are NET prices.
VAT will be added later in the checkout.
Tax calculation will be finalised during checkout.
Buy article
Get time limited or full article access on ReadCube.
$32.00
All prices are NET prices.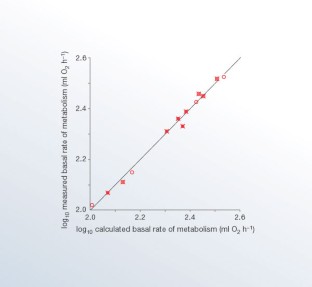 References
McNab, B. K. The Physiological Ecology of Vertebrates: A View from Energetics (Cornell Univ. Press, Ithaca, New York, 2002).

McNab, B. K. Am. Nat. 116, 106–124 (1980).

Glazier, D. S. Comp. Biochem. Physiol. 80A, 587–590 (1985).

Nagy, K. A. Ecol. Monogr. 57, 111–128 (1987).

Nagy, K. A. Aust. J. Zool. 42, 43–53 (1994).

Koteja, P. Funct. Ecol. 5, 56–64 (1991).

Ricklefs, R. E., Konarzewski, M. & Daan, S. Am. Nat. 147, 1047–1071 (1996).

Frith, C. B. & Beehler, B. M. The Birds of Paradise (Oxford Univ. Press, Oxford, 1998).

Bartholomew, G. A., Vleck, C. M. & Bucher, T. L. Physiol. Zool. 56, 370–379 (1983).

McNab, B. K. Comp. Biochem. Physiol. 127A, 309–329 (2000).

McNab, B. K. Auk 118, 916–933 (2001).

Reynolds, P. S. & Lee, R. M. Am. Nat. 147, 735–759 (1996).

Beehler, B. M. in Acta XIX Congr. Internat. Ornithol. (ed. Ouelett, H.) 816–828 (Ottawa Univ. Press, Ottawa, 1989).
Ethics declarations
Competing interests
The author declares no competing financial interests.
About this article
Cite this article
McNab, B. Ecology shapes bird bioenergetics. Nature 426, 620–621 (2003). https://doi.org/10.1038/426620b
Issue Date:

DOI: https://doi.org/10.1038/426620b
Comments
By submitting a comment you agree to abide by our Terms and Community Guidelines. If you find something abusive or that does not comply with our terms or guidelines please flag it as inappropriate.