Not science fiction, but a technically feasible plan to probe our planet's inner workings.
Abstract
Planetary missions have enhanced our understanding of the Solar System and how planets work, but no comparable exploratory effort has been directed towards the Earth's interior, where equally fascinating scientific issues are waiting to be investigated. Here I propose a scheme for a mission to the Earth's core, in which a small communication probe would be conveyed in a huge volume of liquid-iron alloy migrating down to the core along a crack that is propagating under the action of gravity. The grapefruit-sized probe would transmit its findings back to the surface using high-frequency seismic waves sensed by a ground-coupled wave detector. The probe should take about a week to reach the core, and the minimum mass of molten iron required would be 108–1010 kg — or roughly between an hour and a week of Earth's total iron-foundry production.
Access options
Access options
Subscribe to Journal
Get full journal access for 1 year
$199.00
only $3.90 per issue
All prices are NET prices.
VAT will be added later in the checkout.
Rent or Buy article
Get time limited or full article access on ReadCube.
from$8.99
All prices are NET prices.
References
2

Turcotte, D. L. & Emmerman, S. H. J. Geophys. Res. 88, B91–B96 (1983).

3

Schubert, G., Turcotte, D. L. & Olson, P. Mantle Convection in the Earth and Planets 166–176 (Cambridge Univ. Press, 2001).

4

Weertman, J. J. Geophys. Res. 76, 1171–1183 (1971).

6

Landau, L. D. & Lifshitz, E. M. Fluid Mechanics (Pergamon, London, 1959).

7

Anderson, D. L. & Given, J. J. Geophys. Res. 87, 3893–3904 (1982).
Ethics declarations
Competing interests
The author declares no competing financial interests.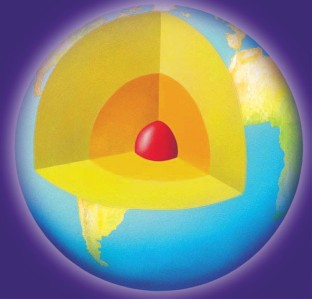 Comments
By submitting a comment you agree to abide by our Terms and Community Guidelines. If you find something abusive or that does not comply with our terms or guidelines please flag it as inappropriate.