The interleukin-12 protein has been implicated in autoimmunity, but one complication is that it shares a subunit with a related protein. New work looks at the contribution of these proteins to autoimmunity in mice.
Access options
Subscribe to Journal
Get full journal access for 1 year
$199.00
only $3.90 per issue
All prices are NET prices.
VAT will be added later in the checkout.
Tax calculation will be finalised during checkout.
Buy article
Get time limited or full article access on ReadCube.
$32.00
All prices are NET prices.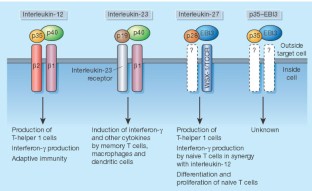 References
Cua, D. J. et al. Nature 421, 744–748 (2003).

Trinchieri, G. Nature Rev. Immunol. 3, 133–146 (2003).

Murphy, K. M. & Reiner, S. L. Nature Rev. Immunol. 2, 933–944 (2002).

Gately, M. K. et al. Annu. Rev. Immunol. 16, 495–521 (1998).

Oppmann, B. et al. Immunity 13, 715–725 (2000).

Frucht, D. M. Science STKE http://stke.sciencemag.org/cgi/content/full/sigtrans;2002/114/pe1 (2002).

Belladonna, M. L. et al. J. Immunol. 168, 5448–5454 (2002).

Becher, B., Durell, B. G. & Noelle, R. J. J. Clin. Invest. 110, 493–497 (2002).

Owens, T., Wekerle, H. & Antel, J. Nature Med. 7, 161–166 (2001).

O'Shea, J. J., Ma, A. & Lipsky, P. Nature Rev. Immunol. 2, 37–45 (2002).
About this article
Cite this article
Watford, W., O'Shea, J. A case of mistaken identity. Nature 421, 706–707 (2003). https://doi.org/10.1038/421706a
Issue Date:

DOI: https://doi.org/10.1038/421706a