India has been eclipsed by China as the largest scientific power in the developing world, and is set to fall behind other, far smaller nations, according to an assessment of its scientific productivity.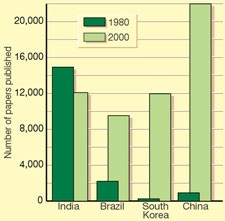 Subbiah Arunachalam, a science analyst at the M. S. Swaminathan Research Foundation in Chennai, revealed the troubling statistics in the Indian journal Current Science (83, 107–108; 2002). He tracked India's publishing record for the period 1980–2000 based on data from the yearly Science Citation Index issued by the Philadelphia-based company ISI.
The total number of papers published by Indian scientists in the journals tracked by ISI for the index fell slightly, from 14,983 in 1980 to 12,127 in 2000, Arunachalam found. But China's output leapt from 924 to 22,061 for the same period, and both South Korea and Brazil expanded their output rapidly (see graph).
In 1973, Arunachalam says, India was the eighth-largest producer of scientific papers in the world, and accounted for nearly half of the developing world's total output of papers. By 2000, it had slipped back to fifteenth in the world ranking.
The analysis has prompted a fresh bout of soul-searching among India's scientific leaders. "Unless we do something serious, I am afraid that we will soon become a third-rate country in science," says C. N. R. Rao, a Bangalore-based chemist and former government adviser who now heads the Third World Academy of Sciences, based at Trieste, Italy.
"All indicators suggest that scientific output is on the decline," agrees P. Balaram, head of biological sciences at the Indian Institute of Science in Bangalore. He attributes the problem to the universities, which he says are suffering from "political interference, diminishing resources, declining faculty quality and deterioration of the academic ambience".
The analysis is particularly depressing for India as between 1980 and 2000, the number of universities grew from 128 to 231, and research and development expenditure rose substantially.
About this article
Cite this article
Jayaraman, K. India's scientists agonize over fall in publication rate. Nature 419, 100 (2002) doi:10.1038/419100b
Further reading
Grant Lewison

&

Ramesh Kundra

Scientometrics (2008)
Comments
By submitting a comment you agree to abide by our Terms and Community Guidelines. If you find something abusive or that does not comply with our terms or guidelines please flag it as inappropriate.