A near-miss ecological disaster still left a sinister aftermath for these giant lizards.
Abstract
An oil tanker ran aground on the Galapagos island of San Cristóbal on 17 January 2001, spilling roughly three million litres of diesel and bunker oil. The slick started to spread westwards1 and was dispersed by strong currents, so only a few marine animals were killed immediately as a result. Here we draw on long-term data sets gathered before the spill to show that a population of marine iguanas (Amblyrhynchus cristatus) on Santa Fe island suffered a massive 62% mortality in the year after the accident, due to a small amount of residual oil contamination in the sea. Another population on the more remote island of Genovesa was unaffected.
Access options
Access options
Subscribe to Journal
Get full journal access for 1 year
$199.00
only $3.90 per issue
All prices are NET prices.
VAT will be added later in the checkout.
Rent or Buy article
Get time limited or full article access on ReadCube.
from$8.99
All prices are NET prices.
References
1

Wikelski, M., Romero, L. M. & Snell, H. L. Science 292, 437–438 (2001).

2

Paine, R. T. et al. Annu. Rev. Ecol. Syst. 27, 197–235 (1996).

3

Sea Technol. 42, 74 (2001).

4

van Tamelen, P. G., Stekoll, M. S. & Deysher, L. Mar. Ecol. Prog. Ser. 160, 265–277 (1997).

5

Wikelski, M. & Trillmich, F. Evolution 51, 922–936 (1997).

6

Romero, L. M. & Wikelski, M. Proc. Natl Acad. Sci. USA 98, 7366–7370 (2001).

7

Wikelski, M., Gall, B. & Trillmich, F. Oecologia 94, 373–379 (1993).

8

Mackie, R. I., Rycyk, M., Ruemmler, R. L., Aminov, R. I. & Wikelski, M. Phys. Biochem. Zool. (submitted).

9

Prichard, A. K., Roby, D. D., Bowyer, R. T. & Duffy, L. K. Chemosphere 35, 1531–1548 (1997).

10

Ormseth, O. A. & Ben-David, A. J. Comp. Physiol. B 170, 419–428 (2000).

11

Fowler, G. S., Wingfield J. C. & Boersma, D. P. Auk 112, 382–389 (1995).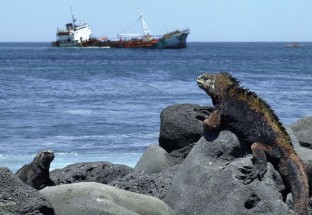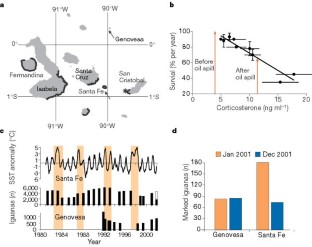 Comments
By submitting a comment you agree to abide by our Terms and Community Guidelines. If you find something abusive or that does not comply with our terms or guidelines please flag it as inappropriate.