Abstract
The human serotonin transporter gene (5-HTT) demonstrates two polymorphisms with possible functional impact: a 44-bp insertion/deletion polymorphism of the promoter region and a 17-bp variable number of tandem repeat polymorphism (VNTR) in intron 2 (STin2). Such genetic polymorphisms in the serotoninergic system may increase the susceptibility to schizophrenia or may serve as predictors of therapeutic response. We therefore analyzed these polymorphisms as susceptibility factors for schizophrenia by comparison of 684 schizophrenic inpatients with 587 healthy controls. We furthermore compared the therapeutic outcome of schizophrenic patients differentiated by the 5-HTT genotypes. Schizo-affective patients were more frequently homozygous for the 44-bp insertion allele (Odds ratio, OR: 1.6, 95% confidence interval, CI: 1.1–2.3, P < 0.03) than were all other schizophrenic patients and controls. The 17-bp VNTR alleles found were: STin2.7, 9, 10, and 12. Sequence analysis revealed seven different sequence motifs with an invariable arrangement. Patients with schizo-paranoid schizophrenia were more frequently homozygous for the STin2.12 allele than were controls (OR: 1.4, CI: 1.1–1.8, P < 0.007) and all other schizophrenic patients (OR: 1.6, CI: 1.2–2.3). The STin2.9 allele represented a risk factor for the residual subtype of schizophrenia (OR: 6.4, CI: 2.5–16.2, P < 0.001). On the basis of global clinical impressions, as well as measurements with the positive and negative syndrome scale we found no association of the polymorphisms with therapeutic response. In conclusion, the 44-bp polymorphism may be associated with the schizo-affective and the 17-bp VNTR with the residual and schizo-paranoid subtype of schizophrenia, findings which require further biochemical and epidemiological confirmation.
Relevant articles
Open Access articles citing this article.
Rana Ghamari

,

Fatemeh Yazarlou

…

Fatemeh Alizadeh

Scientific Reports Open Access 25 January 2022

H Sugawara

,

K Iwamoto

…

T Kato

Translational Psychiatry Open Access 26 July 2011

Markus Schürks

,

Pamela M. Rist

&

Tobias Kurth

The Journal of Headache and Pain Open Access 29 June 2010
Access options
Subscribe to Journal
Get full journal access for 1 year
$119.00
only $9.92 per issue
All prices are NET prices.
VAT will be added later in the checkout.
Tax calculation will be finalised during checkout.
Buy article
Get time limited or full article access on ReadCube.
$32.00
All prices are NET prices.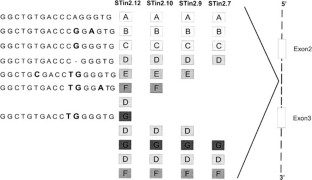 References
Naylor L, Dean B, Opeskin K, Pavey G, Hill C, Keks N et al. Changes in the serotonin transporter in the hippocampus of subjects with schizophrenia identified using (3H) paroxetine J Neural Transm 1996 103: 749–757

Hernandez I, Sokolov BP . Abnormal expression of serotonin transporter mRNA in the frontal and temporal cortex of schizophrenics Mol Psychiatry 1997 2: 57–64

Ramamoorthy S, Baumann A, Moore K, Han H, Yang-Feng T, Chang A et al. Antidepressant- and cocaine-sensitive human serotonin transporter: molecular cloning, expression, and chromosomal localization Proc Natl Acad Sci USA 1993 90: 2542–2546

Lesch KP, Balling U, Gross J, Strauss K, Wolozin BL, Murphy DL et al. Organization of the human serotonin transporter gene J Neural Transm 1994 95: 157–162

Heils A, Teufel A, Petri S, Seemann M, Bengel D, Balling U et al. Functional promoter and polyadenylation site mapping of the human serotonin (5-HT) transporter gene J Neural Transm Gen Sect 1995 102: 247–254

Nakamura M, Ueno S, Tanabe H . The human serotonin transporter gene linked polymorphism (5-HYTTLPR) shows ten novel allelic variants Mol Psychiatry 2000 5: 32–38

Kunugi H, Hattori M, Kato T, Tatsumi M, Sakai T, Sasaki T et al. Serotonin transporter gene polymorphisms: ethnic difference and possible association with bipolar affective disorder Mol Psychiatry 1997 2: 457–462

Michaelovsky E, Frisch A, Rockah R, Peleg L, Magal N, Shohat M et al. A novel allele in the promoter region of the human serotonin transporter gene Mol Psychiatry 1999 4: 97–99

Delbrück SJ, Wendel B, Grunewald I, Sander T, Morris-Rosendahl D, Crocq MA et al. A novel allelic variant of the human serotonin transporter gene regulatory polymorphism Cytogenet Cell Genet 1997 79: 214–220

Heils A, Teufel A, Petri S, Stöber G, Bengel B, Lesch KP . Allelic variation of human serotonin transporter gene expression J Neurochem 1996 6: 2612–2624

Heils A, Moessner R, Lesch KP . The human serotonin transporter gene polymorphism—basic research and clinical implications J Neural Transm 1997 104: 1005–1014

Lesch KP, Bengel D, Heils A, Sabol SZ, Greenberg BD, Petri S et al. Association of anxiety-related traits with a polymorphism in the serotonin transporter gene regulatory region Science 1996 274: 1527–1531

Greenberg BD, Tolliver TJ, Huang SJ, Li Q, Bengel D, Murphy DL . Genetic variation in the serotonin transporter promotor region affects serotonin uptake in human blood platelets Am J Med Genet 1999 88: 83–87

Collier DA, Arranz MJ, Sham P, Battersby S, Vallada H, Gill P et al. The serotonin transporter is a potential susceptibility factor for bipolar affective disorder NeuroReport 1996 7: 1675–1679

Malhotra AK, Goldman D, Mazzanti C, Clifton A, Breier A, Pickar D . A functional serotonin transporter (5-HTT) polymorphism is associated with psychosis in neuroleptic-free schizophrenics Mol Psychiatry 1998 3: 328–332

Collier DA, Stöber G, Li T, Heils A, Catalano M, DiBella D et al. A novel functional polymorphism within the promotor of the serotonin transporter gene: possible role in susceptibility to affective disorders Mol Psychiatry 1996 1: 453–460

Stöber G, Jatzke S, Heils A, Jungkunz G, Fuchs E, Knapp M et al. Susceptibility for schizophrenia is not influenced by a functional insertion/deletion variant in the promotor of the serotonin transporter gene Eur Arch Psychiatry Clin Neurosci 1998 248: 82–86

Bonnet-Brilhault F, Laurent C, Thibaut F, Campion D, Chavand O, Samolyk D et al. Serotonin transporter gene polymorphism and schizophrenia: an association study Biol Psychiatry 1997 42: 634–636

Ogilvie AD, Battersby S, Bubb VJ, Fink G, Harmar AJ, Goodwin GM et al. Polymorphism in serotonin transporter gene associated with susceptibility to major depression Lancet 1996 347: 731–733

Battersby S, Ogilvie AD, Smith CAD, Blackwood DHR, Muir WJ, Quinn JP et al. Structure of a variable number repeat of the serotonin transporter gene and association with affective disorder Psychiatr Genet 1996 6: 177–181

Rees M, Norton N, Jones I, McCandless F, Scourfield J, Holmans P et al. Association studies of bipolar disorder at the human serotonin transporter gene (hsert; 5HTT) Mol Psychiatry 1997 2: 398–402

Stöber G, Heils A, Lesch KP . Serotonin transporter polymorphism and affective disorder Lancet 1996 347: 1340–1341

Evans WE, Relling MV . Pharmacogenomics: translating functional genomics into rational therapeutics Science 1999 286: 487–491

Kay SR, Fiszbein A, Opler LA . The positive and negative syndrome scale (PANSS) for schizophrenia Schizophr Bull 1987 13: 261–275

Bellivier F, Henry C, Szoke A, Schurhoff F, Nosten-Bertrand M, Feingold J et al. Serotonin transporter gene polymorphisms in patients with unipolar or bipolar depression Neurosci Lett 1998 255: 143–146

Hranilovic D, Schwab SG, Jernej B, Knapp M, Lerer B, Albus M et al. Serotonin transporter gene and schizophrenia: evidence for association/linkage disequilibrium in families with affected siblings Mol Psychiatry 2000 5: 91–95

Kennedy CG, Vigneron S, Buresi C, Cambien F, Cambou JP, Roizes G . The minisatellite in the diabetes susceptibility locus IDDM2 regulates insulin transcription Nature Genet 1995 9: 293–298

MacKenzie A, Quinn J . A serotonin transporter gene intron 2 polymorphic region, correlated with affective disorders, has allele-dependent differential enhancer-like properties in the mouse embryo Proc Natl Acad Sci USA 1999 96: 15251–15255

Lichter JB, Barr CL, Kennedy JL, Van Tol HHM, Kidd KK, Livak KJ . A hypervariable segment in the human dopamine receptor D4 (DRD4) gene Hum Mol Genet 1993 2: 767–773
Acknowledgements
This study was supported by the German Ministry for Research and Technology (BMBF), grants 01EC9408, 01ZZ9511 and 01GG984-1-5. We thank Dr D Filler, S Brockmeier, G Rott, S Strobel, M Lange, S Trautner, K Maronde, O Lüers and N Fichtner for their contributions to this study. We express our appreciation to Prof Dr H Helmchen, Prof Dr B Nickel and Priv Doz Dr A Mackert for supporting this study in their departments.
About this article
Cite this article
Kaiser, R., Tremblay, PB., Schmider, J. et al. Serotonin transporter polymorphisms: no association with response to antipsychotic treatment, but associations with the schizoparanoid and residual subtypes of schizophrenia. Mol Psychiatry 6, 179–185 (2001). https://doi.org/10.1038/sj.mp.4000821
Received:

Revised:

Accepted:

Published:

Issue Date:

DOI: https://doi.org/10.1038/sj.mp.4000821
Keywords
schizophrenia

serotonin transporter

polymorphisms

17-bp VNTR

44-bp insertion/ deletion