Abstract
Nucleosomal fragmentation of DNA is a hallmark of apoptosis (programmed cell death)1, and results from the activation of nucleases in cells undergoing apoptosis. One such nuclease, DNA fragmentation factor (DFF, a caspase-activated deoxyribonuclease (CAD) and its inhibitor (ICAD)), is capable of inducing DNA fragmentation and chromatin condensation after cleavage by caspase-3 (refs 2,3,4). However, although transgenic mice lacking DFF45 or its caspase cleavage site have significantly reduced DNA fragmentation5,6, these mice still show residual DNA fragmentation and are phenotypically normal5,6,7. Here we report the identification and characterization of another nuclease that is specifically activated by apoptotic stimuli and is able to induce nucleosomal fragmentation of DNA in fibroblast cells from embryonic mice lacking DFF. This nuclease is endonuclease G (endoG), a mitochondrion-specific nuclease that translocates to the nucleus during apoptosis. Once released from mitochondria, endoG cleaves chromatin DNA into nucleosomal fragments independently of caspases. Therefore, endoG represents a caspase-independent apoptotic pathway initiated from the mitochondria.
Relevant articles
Open Access articles citing this article.
Kai Li

,

Zanjie Feng

…

Cijun Peng

Inflammation Open Access 01 March 2023

Pavel Stejskal

,

Hani Goodarzi

…

Mark Jesus M. Magbanua

Molecular Cancer Open Access 21 January 2023

Ekaterina Pisareva

,

Lucia Mihalovičová

…

Alain R. Thierry

Genome Medicine Open Access 28 November 2022
Access options
Subscribe to this journal
Receive 51 print issues and online access
$199.00 per year
only $3.90 per issue
Rent or buy this article
Get just this article for as long as you need it
$39.95
Prices may be subject to local taxes which are calculated during checkout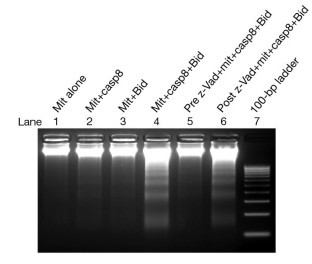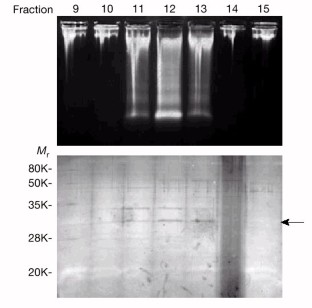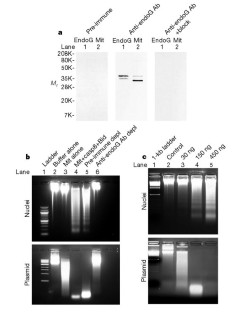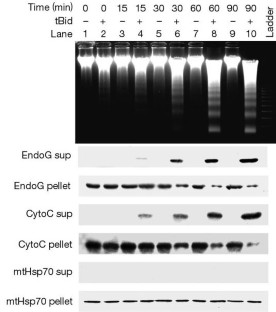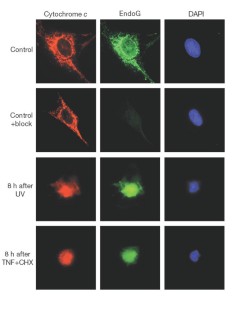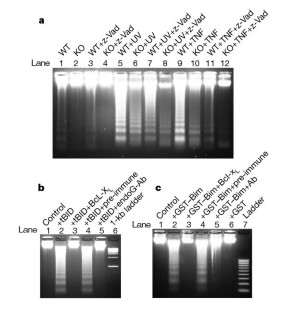 References
Wyllie, A. H. Glucocorticoid induced thymocyte apoptosis is associated with endogeneous endonuclease activation. Nature 284, 555–556 (1980).

Liu, X. et al. DFF, heterodimeric protein that functions downstream of caspase-3 to trigger DNA fragmentation during apoptosis. Cell 89, 175–184 (1997).

Liu, X. et al. DFF40 induces DNA fragmentation and chromatin condensation during apoptosis. Proc. Natl Acad. Sci. USA 15, 8461–8466 (1998).

Enari, M. et al. A caspase-activated DNase that degrades DNA during apoptosis, and its inhibitor ICAD. Nature 391, 43–50 (1998).

Zhang, H. et al. Resistance to DNA fragmentation and chromatin condensation in mice lacking the DNA fragmentation factor 45. Proc. Natl Acad. Sci. USA 95, 12480–12485 (1998).

McIlroy, D. et al. An auxiliary mode of apoptotic DNA fragmentation provided by phagocytes. Genes Dev. 14, 549–558 (2000).

Zhang, J. H. & Xu, M. DNA fragmentation in apoptosis. Cell Res. 10, 205–211 (2000).

Li, H. et al. Cleavage of Bid by caspase 8 mediates the mitochondrial damage in the Fas pathway of apoptosis. Cell 94, 615–624 (1998).

Luo, X. et al. Bid, a Bcl2 interacting protein, mediates cytochrome c release from mitochondria in response to activation of cell surface death receptor. Cell 94, 481–490 (1998).

Gross, A. et al. Caspase cleaved BID targets mitochondria and is required for cytochome c release, while BCL-XL prevents this release but not tumor necrosis factor-R1/Fas death. J. Biol. Chem. 274, 1156–1163 (1999).

Tiranti, V. et al. Chromosomal localization of mitochondrial transcription factor A (TCF6), single-stranded DNA-binding protein (SSBP), and endonuclease G (ENDOG), three human housekeeping genes involved in mitochondrial biogenesis. Genomics 25, 559–564 (1995).

Cote, J. & Ruiz-Carrillo, A. Primers for mitochondrial DNA replication generated by endonuclease G. Science 261, 765–769 (1993).

Krammer, P. H. CD95's deadly mission in the immune system. Nature 407, 789–795 (2000).

Kluck, R. M. et al. The release of cytochrome c from mitochondria: a primary site for Bcl-2 regulation of apoptosis. Science 275, 1132–1136 (1997).

Puthalakath, H. et al. The proapoptotic activity of the Bcl-2 family member Bim is regulated by interaction with the dynein motor complex. Mol. Cell 3, 287–296 (1999).

Von Ahsen, O. et al. Preservation of mitochondrial structure and function after Bid- or Bax-mediated cytochrome c release. J. Cell Biol. 150, 1027–1036 (2000).

Ikeda, S. & Ozaki, K. Action of mitochondrial endonuclease G on DNA damaged by l-asorbic acid, peplomycin, and cis-Diamminedichloroplatinum (II). Biochem. Biophys. Res. Commun. 235, 291–294 (1997).

Xiang, J., Chao, D. T. & Korsmeyer, S. J. BAX-induced cell death may not require interleukin 1 beta-converting enzyme-like proteases. Proc. Natl Acad. Sci. USA 93, 14559–14563 (1996).

Zou, H. et al. An APAF-1 cytochrome C multimeric complex is a functional apoptosome that activates procaspase-9. J. Biol. Chem. 274, 11549–11556 (1999).

Du, C. et al. Smac, a mitochondrial protein that promotes cytochrome c-dependent caspase activation by eliminating IAP inhibition. Cell 102, 33–42 (2000).

Verhagen, A. et al. Identification of DIABLO, a mammalian protein that promotes apoptosis by binding to and antagonizing IAP proteins. Cell 102, 43–53 (2000).

Susin, S. A. et al. Molecular characterization of mitochondrial apoptosis-inducing factor. Nature 397, 441–446 (1999).

Lindsten, T. et al. The combined functions of proapoptotic Bcl-2 family members Bak and Bax are essential for normal development of multiple tissues. Mol. Cell 6, 1389–1399 (2000).

Kuida, K. et al. Decreased apoptosis in the brain and premature lethality in CPP32-deficient mice. Nature 384, 368–372 (1996).

Hakem, R. et al. Differential requirement for caspase 9 in apoptotic pathways in vivo. Cell 94, 339–352 (1998).

Kuida, K. et al. Reduced apoptosis and cytochrome c-mediated caspase activation in mice lacking caspase 9. Cell 94, 325–337 (1998).

Cecconi, F. et al. Apaf1 (CED-4 homolog) regulates programmed cell death in mammalian development. Cell 94, 727–737 (1998).

Yoshida, H. et al. Apaf1 is required for mitochondrial pathways of apoptosis and brain development. Cell 94, 739–750 (1998).

Honarpour, N. et al. Adult Apaf-1-deficient mice exhibit male infertility. Dev. Biol. 218, 248–258 (2000).

Chautan, M. et al. Interdigital cell death can occur through a necrotic and caspase-independent pathway. Curr. Biol. 9, 967–970 (1999).
Acknowledgements
We thank J. M. Peters, M. Lutter and M. Fang for their assistance in mitochondrion purification and other techniques; Y. Li and R. Harold for technical support; J. Zhang and M. Xu for providing DFF45-knockout MEF cells. We also thank M. Lutter and X. Jiang for recombinant Bcl-xL. X.L. is supported by the Leukemia Society of America; X.W. is supported by grants from NIH and the Welch Foundation.
Supplementary information
About this article
Cite this article
Li, L., Luo, X. & Wang, X. Endonuclease G is an apoptotic DNase when released from mitochondria. Nature 412, 95–99 (2001). https://doi.org/10.1038/35083620
Received:

Accepted:

Issue Date:

DOI: https://doi.org/10.1038/35083620
Comments
By submitting a comment you agree to abide by our Terms and Community Guidelines. If you find something abusive or that does not comply with our terms or guidelines please flag it as inappropriate.