A genotype that lowers susceptibility to HIV extends survival at a time of peak fertility.
Access options
Subscribe to Journal
Get full journal access for 1 year
$199.00
only $3.90 per issue
All prices are NET prices.
VAT will be added later in the checkout.
Rent or Buy article
Get time limited or full article access on ReadCube.
from$8.99
All prices are NET prices.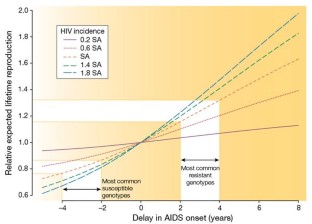 References
1

Allison, A. C. Br. Med. J. 1, 290–294 (1954).

2

Joint United Nations Programme on HIV/AIDS (United Nations, Geneva, 2000).

3

Gonzalez, E. et al. Proc. Natl Acad. Sci. USA 96, 12004–12009 (1999).

4

Wilkinson, D., Abdool Karim, S. S., Williams, B. & Gouws, E. J. Acqu. Imm. Def. Syndr. 23, 405–409 (2000).

5

Gregson, S., Donnelly, C. A., Parker, C. G. & Anderson, R. M. AIDS 10, 1689–1697 (1996).

6

Stephens, J. C. et al. Am. J. Hum. Genet. 62, 1507–1515 (1998).

7

Charlesworth, B. Evolution in Age-Structured Populations (Cambridge Univ. Press, Cambridge, 1980).

8

Census (International Programs Center, Population Division, United States Census Bureau, 2000).
About this article
Cite this article
Schliekelman, P., Garner, C. & Slatkin, M. Natural selection and resistance to HIV. Nature 411, 545–546 (2001). https://doi.org/10.1038/35079176
Comments
By submitting a comment you agree to abide by our Terms and Community Guidelines. If you find something abusive or that does not comply with our terms or guidelines please flag it as inappropriate.