Cave
HarperCollins: 2000. $16.95
Dory Story
Charlesbridge: 2000. $15.95
Rosie Plants a Radish
; illustrations by Axel Scheffler Macmillan: 2000. £3.99
This is the Tree
; illustrations by Adrienne Kennaway Frances Lincoln: 2000. £5.99
The Great Kapok Tree: A Tale of the Amazon Rain Forest
Voyager/Harcourt: 2000. $7/ £5.95
The Usborne First Encyclopedia of Animals
Usborne: 2000. $9.95, £8.99
Children are naturals at natural history —what parents among us have not spent hours watching a child picking up tiny stones and turning them over to examine all sides, then solemnly putting them in the mouth to test another dimension. So it is not really a surprise that most natural history books for children are for the younger set. But surely it is those slightly older children who lose interest whom we need to keep interested in science. Perhaps publishers think the pre-teens are not interested in books at all, with this view spilling over into science and natural history books. But more and more novels are becoming available for this age group, and it should only be a matter of time before this trend affects science books as well.
Books can either be read to children or read by children themselves; the current crop has some of each. Really good books for pre-readers must have lovely illustrations and compelling words. Diane Siebert's Cave, an exploration in poetry of the magical underground world, is one such: any book using such words as "finite fragile works of art" to describe crystals is sure to grab at least some children's imaginations. The illustrations are lovely, as are those of Dory Story — a riotous adventure about messing about in boats on the east coast of the United States — with a surprising ending.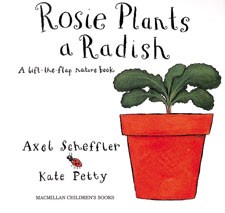 Plants are often the neglected organisms, just depicted as things for animals to sit on or eat. Rosy Plants a Radish is a doing-book of another kind — a lovely story about how things grow, with gardening instructions at the end. And the baobab is described in This is the Tree as the focus for a teeming ecosystem, all beautifully illustrated.
But the prize book (this edition is a tenth-anniversary reprint) is The Great Kapok Tree. It is a book with a message: the anteater says to the sleeping man, "surely you know what happens tomorrow depends upon what you do today". The conservation ethic, not ranting but responsible, comes through loud and clear. This is a classic that in our family ranks with Dr Suess's inimitable Lorax.
Young school-age children (age 5–8) clamour for books that contain information, lots of it. Encyclopedias are great, both The Usborne First Encyclopedia of Animals and The Oxford First Book of Animals will satisfy a fact-hungry child. I only wish they could have been hybridized; Usborne has great photographs and more actual information, whereas Oxford treats habitats excellently and has activities that look fun.
But why do invertebrates always have to be referred to as minibeasts or creepy-crawlies? Any child who can manage Tyrannosaurus rex can probably manage invertebrate too. All Kinds of Habitats is about just that, and very good, with worldwide coverage in a slim book, and lots of activities and 'think about it' sorts of questions to stimulate an enquiring mind.
Some books are not really books, but toys. Pop-up books fall into this category — ours never lasted very long. But even if they don't last, Misunderstood Bats and Misunderstood Chameleons are wonderful. Both are written in a charming, matter-of-fact way for older children, while the fold-out format, with its worlds within worlds, is great for younger children. These bridge the gap, and will probably appeal to reluctant readers, as they don't really look like books at all.
Reference books about organisms are a common offering for a slightly older (9–12+) age range. The Oxford Children's Encyclopedia of Plants and Animals is an excellent reference book — with alphabetical entries allowing children to find information quickly. The cross-referencing is good and will encourage children to find out more for themselves. Plants and animals is a bit of a misnomer, however, as there are only a few plant entries, and none at all for mosses or ferns.
A light-hearted book about photosynthesis sounds impossible, but A Leaf in Time does it beautifully. The importance of plants to life on Earth is traced from the origins of life to today's need for renewable energy, all told in a way that makes the story compelling and readable. A group of 9–11-year-olds sat down and discussed photosynthesis after reading it — surely a sign that this book is doing its job.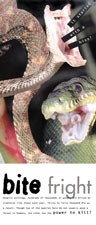 People often assume that children prefer things that are horrible or scary — and to a large extent they are right. My 9-year-old's favourite book of all in this set was Youch! It Bites, a photographic foray into the world of things that harm humans. The pictures, some close-ups, some with a scanning electron microscope, are fantastic, and the book is full of accurate information. I think the lame jokes are part of the attraction.
Novels about animals often appeal to young readers, and both Colin Dann (of 'Farthing Wood' fame) and Elizabeth Laird's stories of African adventure (Journey to Freedom, Lion Country and the 'Wild Things' series — Lion Pride, Baboon Rock and Leopard Trail) fall into this category. They are unexpectedly gripping, and will be enjoyed by keen animal lovers and budding natural historians alike.
Children of 12+ need books — they will still be able to use reference books such as Usborne's Ecology, or enjoy A Leaf in Time. But whereas the youngest readers are spoilt for choice in natural history, older children are largely left to fend for themselves in the world of adult books. Some can manage it easily, although these are probably the very keen who wouldn't have lost interest anyway. In today's world, where biodiversity matters to governments trying to implement the Convention on Biodiversity, knowledge about the natural world is more important than ever. It is in our own best interest to ensure that all children, not just tomorrow's taxonomists and ecologists, stay informed and interested in the world we all share.
Comments
By submitting a comment you agree to abide by our Terms and Community Guidelines. If you find something abusive or that does not comply with our terms or guidelines please flag it as inappropriate.