The people of Kansas City, Missouri, are hoping that the official opening this month of the $200 million Stowers Institute for Medical Research will provide a springboard that will eventually transform the midwestern city into one of the nation's top life-science centres.
The institute — built by a married couple of wealthy cancer survivors who also donated its initial endowment of $515 million, which could rise to $2 billion — reflects the growing influence of large-scale philanthropy on biomedical research in the United States.
The institute will not on its own revitalize Kansas City's research climate, as it will initially hire only four to six investigators a year, but it has already leveraged other activity aimed at doing just that.
Jim and Virginia Stowers, who made their fortune in the mutual-funds business in the city, say they ignored advice to spend their fortune on an institute in a more established centre of biomedical research on America's east or west coasts.
The advent of the institute has prompted the city to form a coalition of businesses, hospitals and universities called the Kansas City Area Life Sciences Institute (LSI). The coalition hopes that the high profile the new institute will bring to the area should help it meet its target of raising $30 million a year locally over ten years. The LSI estimates that Kansas City's annual biomedical research effort, supported by the National Institutes of Health and other sources, could by then have expanded from $100 million to $500 million.
Bill Neaves, the president of the Stowers Institute, says he hopes that the LSI will help him to recruit top scientists. Before hiring anyone, he introduces them to scientists working at LSI coalition institutions, such as the Midwest Research Institute and the University of Missouri in Kansas City. Dual appointments and the chance to use facilities outside the Stowers Institute will attract talent, he believes.
Neaves has proceeded cautiously, under the guidance of a board of advisers led by Doug Melton, chair of molecular and cellular biology at Harvard University. Neaves has so far hired four principal investigators, led by Robb Krumlauf, who previously ran the division of developmental neurobiology at Britain's National Institute for Medical Research at Mill Hill, London. "There's a danger in going too slow, but there is perhaps a greater danger of going too fast," says Neaves.
→http://www.stowers-institute.org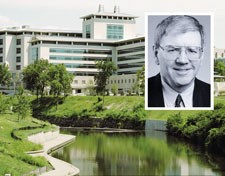 Comments
By submitting a comment you agree to abide by our Terms and Community Guidelines. If you find something abusive or that does not comply with our terms or guidelines please flag it as inappropriate.