Without more money for their research, antidoping scientists will continue to be beaten into second place by pharmaceutically assisted athletes. Alison Abbott reports from the front line of sport's drugs war.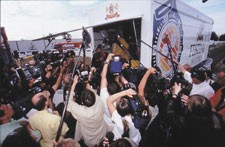 Cheating in sport is nothing new — only its form has changed. In ancient Greece, athletes attempted to lay their rivals low with curses, or simply turned to bribery. Fines levied on those caught were used to build bronze statues of Zeus, which lined the entrance of the Olympic stadium, reminding competitors of the perils of cheating.
Today, cheats rely on chemical assistance, using an array of banned substances to get more from their bodies than nature and training would otherwise provide. And although those who are caught face lengthy bans, the depressing truth is that pharmaceutically enhanced athletes are usually one step ahead of the scientists employed to catch them. If the International Olympic Committee (IOC) and other sports governing bodies do not provide more funding to back their tough words on drugs, these scientists say they will continue to be runners-up in the doping contest. "Drug testing costs a lot of money and sports federations are never keen payers," says Mats Garle, scientific director of the Swedish Doping Control Laboratory in Huddinge, near Stockholm.
The latest weapon in the fight against doping comes from Australian and French researchers who have developed methods for detecting abuse of erythropoietin (EPO), a hormone that boosts the body's production of red blood cells. Approved by the IOC in late August with great fanfare, these two tests will be used at the Sydney Olympics, which open on 15 September. But few athletes are likely to be caught out at the games. Provided they stop taking EPO a few days before their events, they will probably test negative. In fact, the tests are likely to be most useful in out-of-competition testing, which has already begun — but it is rumoured that the EPO abusers are already working on ways to dodge detection.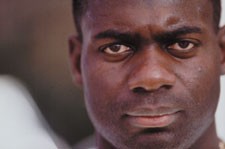 Meanwhile, progress towards tests for another performance-enhancing drug, human growth hormone (hGH), has stalled. Although the scientists developing the tests are confident that they could have been readied in time for Sydney, the IOC refused to sanction funding for the necessary validation studies. As a result, unscrupulous athletes know that they can abuse hGH with impunity.
Before any new drugs test is introduced, sports governing bodies must be convinced that it will stand up to legal challenges. If the doping control authorities lose a courtroom battle, the consequences can be disastrous. In 1997, the British Athletics Federation went bankrupt, partly as a result of court costs incurred after the middle-distance runner Diane Modahl challenged its decision to ban her following a positive test for testosterone. Modahl convinced the court that bacterial growth caused by a failure to refrigerate her urine sample properly could have led to a false positive result.
Given this, the IOC's decision to adopt the two EPO tests for the Sydney games is a genuine milestone in antidoping science. Recombinant EPO, a peptide of 165 amino acids produced by genetic engineering, is among the world's top selling pharmaceuticals. It is used to treat anaemias associated with disorders such as kidney failure. By boosting the production of red blood cells, it increases the flow of oxygen to the muscles. Some competitors in endurance sports such as cycling and distance running probably started using EPO as soon as it became available in 1987. Until now, there has been no way to detect this abuse.
In approving one of the EPO tests, the IOC is for the first time requiring athletes to give blood samples for doping control. Developed by Michael Ashenden and his colleagues at the Australian Institute of Sport near Canberra, the test measures the EPO concentration in blood as well as four other factors affected by raised EPO levels1. Precursors of red blood cells, known as macrocytes and reticulocytes, are overproduced in bone marrow when EPO levels are raised, and they leak out into the circulation. So Ashenden's test measures the levels of red blood cells and these two precursors. It also measures the serum concentration of a protein called soluble transferrin receptor, which is involved in iron metabolism — and as such influences the production of the oxygen-carrying haemoglobin complexes found in red blood cells.
The other test, described earlier this year in Nature2 by Françoise Lasne and Jacques de Ceaurriz of the French National Anti-Doping Laboratory in Châtenay-Malabry, near Paris, detects directly the presence of recombinant EPO in urine. The test is based on a subtle difference between human EPO and that produced in vitro for pharmaceuticals. The recombinant EPO has the same amino-acid sequence as the natural hormone but, because it is produced from non-human cells, it has a different number of sugar residues attached to it. As a result, the electrical charges on the two forms of EPO are different and they can be separated using an electrophoretic technique called isoelectric focusing.
To avoid the possibility of false positive results in Sydney, sanctions will only be taken against athletes who fail both tests. The blood changes tested for by Ashenden's method linger for two to three weeks after an athlete stops taking EPO, but the recombinant EPO itself is flushed out of the body within a few days. De Ceaurriz suspects that the performance-enhancing effects of EPO start to diminish three days after its last administration. Even so, he believes athletes can gain an advantage if they use EPO up to a few days before their competitions, and yet still test negative for the urine test. He says the tests will be most valuable in out-of-competition monitoring, where samples can be demanded at any time.
After watching the performance of the EPO tests in Sydney, IOC-accredited labs will decide whether to include them in their battery of standard tests. At the moment, these cost around 150 euros (US$131) for competition samples and 100 euros for out-of-competition testing. The two EPO tests could add considerably to the costs. Wilhelm Schänzer, director of the IOC-accredited doping control laboratory in Cologne, calculates that Ashenden's blood test alone would add around 25 euros, not including the costs involved in blood collection.
The intensity of the war on doping will always depend on money, both for carrying out the tests and for developing new ones. In 1998, the IOC decided to fast-track the development of the EPO tests by investing US$1 million. This figure was matched by the Australian government.
But the IOC's antidoping research budget is so limited that this decision meant it had to abandon promising research into tests for hGH. Used to treat dwarfism, recombinant hGH first made its appearance in the mid-1980s. As usual, athletes recognized its fat-burning and anabolic effects long before the scientists. Even before the recombinant hormone became available, a publication called The Underground Steroid Handbook noted that hGH was already established in power-lifting and "within a few years will be a commonly used drug in all strength athletics". This prediction seems to have come true. The drug is often stolen from manufacturers and hospital pharmacies, and athletes have been caught carrying supplies. In February this year, 1,575 vials of hGH were stolen from a pharmaceutical importer in Sydney.
In the mid-1990s, the IOC and the European Commission co-funded a three-year international project called GH2000 to develop tests to detect this substance. The project, which concluded at the end of 1998, was led by Peter Sonksen, an endocrinologist at St Thomas' Hospital in London.
The GH2000 consortium delivered its report to the IOC in January 1999. It had developed a series of blood markers that could be used to test for elevated hGH levels, including insulin-like growth factors and proteins that bind to them3. "We have found a very credible test for exogenous hGH," says Sonksen. "It only needs to be tested out more broadly, in a range of ethnic and hormonal backgrounds, and in other conditions."
Working independently of GH2000, researchers led by Christian Strasburger at the Ludwig-Maximilian University in Munich have developed a direct test for recombinant hGH4. This relies on the fact that hGH exists in different molecular forms, the two major fractions of which have molecular masses of 22 kilodaltons and 20 kDa. Although only half of the body's own hGH is in the heavier form, for recombinant hGH the figure is 95%. The test uses antibodies to identify the two forms, and so allows any shift in the natural ratio to be spotted.
Sonksen costed validation studies for the GH2000 and Munich tests at around US$5 million, and requested continued funding. The consortium also responded to a formal call for proposals for research issued by the IOC in August 1999, but was turned down. Sonksen still has thousands of samples available for analysis in his freezer. "Now GH2000 is in cold storage both literally and metaphorically," he says.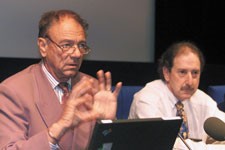 The IOC argues that Sonksen's cost estimates were too high, and had not been convincingly justified. "We won't do it at this price," says Patrick Schamasch, medical director of the IOC, based at its headquarters in Lausanne, Switzerland. But Sonksen rejects this criticism. He maintains that his experience with GH2000 allowed him to give precise estimates for the development needed to bring the tests up to a court-proof standard.
The German Sports Research Institute in Cologne is now supporting further work to validate the Munich test, drawing on some of the GH2000 samples. Strasburger hopes that the newly created World Anti-Doping Agency (WADA), based in Lausanne, will follow through on statements that tackling hGH abuse will be its top priority, and provide the money needed to bring the test into general use. When it is fully established, WADA is supposed to take over doping control from the IOC. But the IOC and national sports federations will provide most of the agency's funding. And some scientists claim that if these bodies were committed to clamping down on drug abuse, they would divert much more money into promising new detection methods. "If they were really serious, they would be well-advised to at least support the development of new scientifically validated analytical tests," says Strasburger.
That view received strong support in a report from the US National Commission on Sports and Substance Abuse, commissioned by the White House Office of National Drug Policy and released on 8 September. It criticized the IOC's "seeming lack of will" to tackle the doping problem, and called for a five-year research programme, costing up to US$100 million, to give the antidoping labs the tools they need.
As soon as any new test is introduced, cheating athletes will seek ways to avoid detection, or find other performance-enhancing drugs for which there are no tests. Some cyclists are already believed to be experimenting with EPO precursors, and oxygen-carriers such as perfluorocarbons and oxyhaemoglobin. Drugs that increase the production of blood plasma, meanwhile, could be used to dilute out EPO before the blood tests. And if a source of recombinant EPO from a human cell-line becomes available, the urine test for EPO would immediately become ineffective.
Given the determination of their opponents, antidoping scientists realize that it will always be tough to keep pace with the drug cheats. But if they are not given a larger share of the huge sums of money circulating within the world of sport, their task will almost certainly be hopeless.
References
1

Parisotto, R. et al. Haematologica 85, 564– 572 (2000).

2

Lasne, L. & de Ceaurriz, J. Nature 405, 635 (2000).

3

Wallace, J. D. et al. J. Clin. Endocrinol. Metab. 84, 3591 – 3601 (1999).

4

Wu, Z., Bidlingmaier, M., Dall, R. & Strasburger, C. J. Lancet 353, 895 (1999).

5

Dehennin, L., Bonnaire, Y. & Plou, P. J. Chromatog. B 721, 301– 307 (1999).
About this article
Cite this article
Abbott, A. What price the Olympian ideal?. Nature 407, 124–125 (2000). https://doi.org/10.1038/35025272
Comments
By submitting a comment you agree to abide by our Terms and Community Guidelines. If you find something abusive or that does not comply with our terms or guidelines please flag it as inappropriate.