The amygdala links neutral stimuli with the agony of overcoming drug addiction.
Abstract
The habitual behaviour of many opiate addicts means that the aversive symptoms of drug withdrawal are frequently experienced in specific environments1. Stimuli in these environments acquire some of the negative affective properties of opiate withdrawal through pavlovian conditioning, and subsequent exposure to these stimuli alone can then elicit a conditioned withdrawal response that is often associated with drug craving, drug seeking, and relapse back to compulsive drug use after a long abstinence1,2. We show here that selective excitotoxic lesions of the basolateral amygdala, part of the limbic forebrain, prevent the development of conditioned withdrawal in morphine-dependent rats.
Access options
Subscribe to Journal
Get full journal access for 1 year
$199.00
only $3.90 per issue
All prices are NET prices.
VAT will be added later in the checkout.
Tax calculation will be finalised during checkout.
Rent or Buy article
Get time limited or full article access on ReadCube.
from$8.99
All prices are NET prices.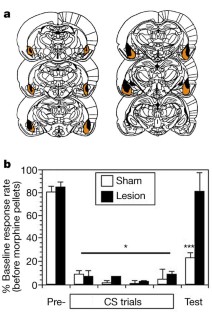 References
1

Wikler, A. Arch. Gen. Psychiatry 28, 611–616 (1973).

2

O'Brien, C. P., Testa, T., O'Brien, T. J., Brady, J. P. & Wells, B. Science 195, 1000–1002 (1977).

3

Koob, G. F. & Le Moal, M. Science 278, 52–58 (1997).

4

Schulteis, G. & Koob, G. F. Neurochem. Res. 21, 1437–1454 (1996).

5

Koob, G. F., Wall, T. L. & Bloom, F. E. Psychopharmacology 98, 530 –534 (1989).

6

Whitelaw, R. B., Markou, A., Robbins, T. W. & Everitt, B. J. Psychopharmacology 127, 213–224 (1996).

7

Everitt, B. J. et al. Ann. NY Acad. Sci. 877, 412– 438 (1999).

8

Baldwin, H. R. & Koob, G. F. Neuropsychopharmacology 8, 15–21 (1993).

9

Everitt, B. J., Cardinal, R. N., Hall, J., Parkinson, J. & Robbins, T. W. in The Amygdala: A Functional Analysis (ed. Aggleton, J.) (Wiley, New York, in the press).

10

Aston-Jones, G., Delfs, J. M., Druhan, J. & Zhu, Y. Ann. NY Acad. Sci. 877, 486–498 ( 1999).

11

Groenewegen, H. J., Wright, C. I. & Beijer, A. V. J. Progr. Brain Res. 107, 485–511 (1996).

12

Schulteis, G., Markou, A., Gold, L. H., Stinus, L. & Koob, G. F. J. Pharmacol. Exp. Ther. 271, 1391–1398 (1994).
About this article
Cite this article
Schulteis, G., Ahmed, S., Morse, A. et al. Conditioning and opiate withdrawal. Nature 405, 1013–1014 (2000). https://doi.org/10.1038/35016630
Comments
By submitting a comment you agree to abide by our Terms and Community Guidelines. If you find something abusive or that does not comply with our terms or guidelines please flag it as inappropriate.