Measuring people's finger patterns may reveal some surprising information.
Abstract
Animal models have indicated that androgenic steroids acting before birth might influence the sexual orientation of adult humans. Here we examine the androgen-sensitive pattern of finger lengths1, and find evidence that homosexual women are exposed to more prenatal androgen than heterosexual women are; also, men with more than one older brother, who are more likely than first-born males to be homosexual in adulthood2, are exposed to more prenatal androgen than eldest sons. Prenatal androgens may therefore influence adult human sexual orientation in both sexes, and a mother's body appears to 'remember' previously carried sons, altering the fetal development of subsequent sons and increasing the likelihood of homosexuality in adulthood.
Access options
Access options
Subscribe to Journal
Get full journal access for 1 year
$199.00
only $3.90 per issue
All prices are NET prices.
VAT will be added later in the checkout.
Rent or Buy article
Get time limited or full article access on ReadCube.
from$8.99
All prices are NET prices.
References
1

Manning, J. T., Scutt, D., Wilson, J. & Lewis-Jones, D. I. Hum. Reprod. 13, 3000–3004 ( 1998).

2

Blanchard, R. Annu. Rev. Sex Res. 8, 27–67 (1997).

3

Breedlove, S. M., Cooke, B. M. & Jordan, C. L. Brain Behav. Evol. 54, 8– 14 (1999).

4

Manning, J. T., Trivers, R .L., Singh, D. & Thornhill, R. Nature 399, 214–215 ( 1999).

5

McFadden, D. & Pasanen, E. Proc. Natl Acad. Sci. USA 95, 2709–2713 (1998).

6

James, W. H. Hum. Biol. 59, 721–752 ( 1987).

7

Bogaert, A. F. Behav. Neurosci. 111, 1395–1397 (1997).

8

Bailey, J. M. & Pillard, R. C. Arch. Gen. Psychiatry 48, 1089–1096 (1991).

9

Hamer, D. D., Hu, S., Magnuson, V. L., Hu, N. & Pattatucci, A. M. L. Science 261, 321– 327 (1993).

10

Gorman, M. R. Persp. Biol. Med. 38, 61–81 (1994).

11

Brodie, H. K. H. et al. Am. J. Psychiatry 131, 82– 83 (1974).

12

Mayer-Bahlburg, H. F. L. Progr. Brain Res. 61, 375–398 (1984).

13

Bogaert, A. F. & Hershberger, S. Arch. Sexual Behav. 28, 213–221 ( 1999).

14

McFadden, D. & Champlin, C. A. J. Ass. Res. Otolaryngol. (in the press).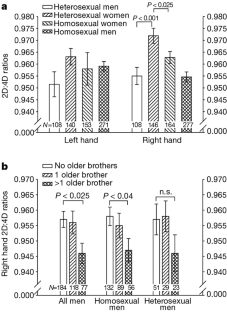 Comments
By submitting a comment you agree to abide by our Terms and Community Guidelines. If you find something abusive or that does not comply with our terms or guidelines please flag it as inappropriate.