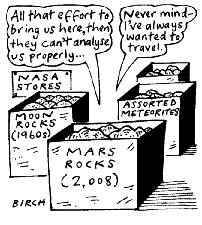 The US space agency NASA must invest in new ground-based laboratory equipment if it wants to get the most out of samples returned from Mars and other extraterrestrial bodies in the next decade, says an advisory group.
By the time Mars samples are returned to Earth in 2008, most NASA-funded equipment will be at least 20 to 25 years old and obsolete, unless there is a major effort to upgrade, says the group.
Michael Drake, director of the University of Arizona's Lunar and Planetary Laboratory, says the present mass spectrometers, ion microprobes, electron microscopes and other equipment used to study extraterrestrial samples may not be up to the job.
Drake headed a task force asked by NASA's science office to look into the requirements for Laboratory Instrumentation for Analysis of Returned Samples (LIFARS). NASA invested heavily in laboratory facilities at the time of the Apollo programme in the 1960s, when hundreds of pounds of rocks were returned from the Moon. But since then there has been a "catastrophic decline in supporting infrastructure", says Drake.
Scientists studying meteorites and other extraterrestrial samples have worked around the problem in recent years by borrowing time on expensive equipment funded by the National Science Foundation (NSF) and other agencies. But access is limited to scientists with NSF grants, he says.
The answer, according to Drake and other planetary scientists, would be a modest investment by NASA of around $13 million a year in facilities for agency-funded researchers. The money would also help develop technologies such as resonance ionization mass spectroscopy, which promises greater precision in identifying isotopes. The NASA spending, if approved, would be coordinated with that of the NSF, the Department of Energy, universities and industry, all of which use similar equipment for different purposes.
No extraterrestrial samples have been brought back to Earth for more than 20 years, but several such missions are planned. NASA's Genesis spacecraft will collect samples of charged solar wind particles and return them to Earth in 2003. In 2006, Stardust will return interstellar dust particles and dust from a comet's coma, and the Japanese-US Muses-C spacecraft will return material from an asteroid. Most ambitious will be the Mars sample return in 2008.
The Mars mission poses special problems because of the remote possibility that the returned rocks could be biologically active, or that they could be contaminated by terrestrial microbes once on Earth. To avoid contamination, NASA may use a single, ultraclean national laboratory for Mars rock analysis.
A task force headed by Michael Carr, a planetary scientist at the US Geological Survey in Flagstaff, Arizona, has begun looking into overall requirements for receiving, distributing and studying samples from Mars. A separate panel of the National Research Council's Space Studies Board is considering contamination issues related to small bodies such as comets and asteroids.
Drake says a full LIFARS programme is unlikely to appear in next year's NASA budget — to be unveiled in the Clinton administration's budget request next month — but might be included in 2000.
Comments
By submitting a comment you agree to abide by our Terms and Community Guidelines. If you find something abusive or that does not comply with our terms or guidelines please flag it as inappropriate.