Abstract
Perovskite manganites derived from LaMnO3 have recently become the subject of intensive study following the discovery of 'colossal' magnetoresistance (a magnetically induced change in electrical resistance of up to several orders of magnitude) in several members of this family of compounds1. The manganites exhibit a broad range of electronic and magnetic phases, ranging from low-resistance ferromagnetic metals to high-resistance insulators, which are extremely sensitive to variation of composition2, temperature and pressure3. A recent study showed that such sensitivity also extends to oxygen isotope exchange4: replacing 16O with 18O in La0.8Ca0.2MnO3 produces an unusually large change in the magnetic properties (a 21-kelvin decrease in the Curie temperature). The magnitude of this isotope shift is evidence for the essential role played by electron–phonon coupling5 in determining the transport properties of these materials. Here we show that this sensitivity to oxygen isotope exchange can be even more extreme. In its normal state, the compound La0.175Pr0.525Ca0.3MnO3 undergoes an insulator-to-metal transition as it is cooled below ∼95 K. But we find that, after substituting 18O for 16O, the compound remains an insulator down to 4.2 K, so providing a vivid demonstration of the importance of lattice vibrations in these materials.
Access options
Access options
Subscribe to Journal
Get full journal access for 1 year
$199.00
only $3.90 per issue
All prices are NET prices.
VAT will be added later in the checkout.
Rent or Buy article
Get time limited or full article access on ReadCube.
from$8.99
All prices are NET prices.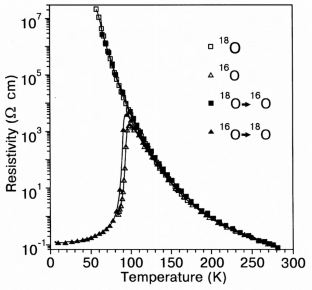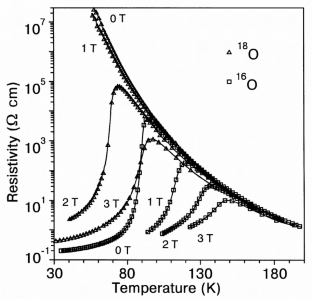 References
1

Rao, C. N. R., Cheetham, A. K. & Mahesh, R. Giant magnetoresistance and related properties of rare earth manganites and other oxide systems. Chem. Mater. 8, 2421–2432 (1996).

2

Hwang, H. Y., Cheong, S. W., Radaelli, P. G., Marezio, M. & Batlogg, B. Lattice effects on the magnetoresistance in doped LaMnO3. Phys. Rev. Lett. 75, 914–917 (1995).

3

Zhou, J.-S., Archibald, W. & Goodenough, J. B. Identification of a new type of electronic state in the magnetoresistive orthomanganites. Nature 381, 770–772 (1996).

4

Zhao, G. M., Conder, K., Keller, H. & Mueller, K. A. Giant oxygen isotope shift in the magnetoresistive perovskite La1−xCaxMnO3+y. Nature 381, 676–678 (1996).

5

Millis, A. J., Littlewood, P. B. & Shraiman, B. I. Double exchange alone does not explain the resistivity of La1−xSrxMnO3. Phys. Rev. Lett. 74, 5144–5147 (1995).

6

Chen, C. H. & Cheong, S.-W. Commensurate to incommensurate charge ordering and its real-space images in La0.5Ca0.5MnO3. Phys. Rev. Lett. 76, 4042–4045 (1996).

7

Yoshizawa, H., Kawano, H., Tomioka, Y. & Tokura, Y. Magnetic field-induced metal-insulator transition in Pr0.7Ca0.3MnO3. J. Phys. Soc. Jpn 65, 1043–1052 (1996).

8

Lees, M. R., Barratt, J., Balakrishnan, G. & McPaul, D. Influence of charge and magnetic ordering on the insulator-metal transition in Pr1−xCaxMnO3. Phys. Rev. B 52, 14303–14307 (1995).

9

Zhao, G. M., Hunt, M. B. & Keller, H. Strong oxygen-mass dependence of the thermal expansion coefficient in the manganites (La1−xCax)1−yMn1−yO3. Phys. Rev. Lett. 78, 955–958 (1997).

10

Babushkina, N. A. et al. Anomalous isotope effect in high-temperature superconductor LSCO with 3d impurities. Physica C 272, 257–268 (1996).

11

Gorbenko, O. Yu., Kaul, A. R., Babushkina, N. A. & Belova, L. M. Giant magnetoresistive thin films of (La,Pr)0.7(Ca,Sr)0.3MnO3prepared by aerosol MOCVD. J. Mater. Chem. 7, 747–752 (1997).

12

Jirak, Z., Krupička, S., Šimša, Z., Dlouha, M. & Vratislav, S. Neutron diffraction study of Pr1−xCaxMnO3. J. Magn. Magn. Mater. 53, 153–166 (1985).

13

Garcia-Muñoz, J. L., Saaidi, M., Fontcuberta, J. & Rodriguez-Caarvajal, J. Reduction of the Jahn–Teller distortion at the insulator-to-metal transition in mixed valence manganites. Phys. Rev. B 55, 34–37 (1997).
Acknowledgements
This work was supported in part by the Russian Foundation for Basic Researches.
Comments
By submitting a comment you agree to abide by our Terms and Community Guidelines. If you find something abusive or that does not comply with our terms or guidelines please flag it as inappropriate.