Abstract
The apparent paradox posed by the synchronization of mating displays by males competing to attract females has provoked considerable interest among evolutionary biologists1,3. Such synchronized sexual signalling has only been documented for communicationusing light flashes (bioluminescence) or sound. It has been suggested that the "fundamental reasons that might favour precise adjustments in signal timing relative to that of a particular neighbour could only be compelling for signallers using these two channels"1. Here we provide the first quantitative evidence for synchronous production of a conventional visual courtship signal, the movement of a body part.
Access options
Access options
Subscribe to Journal
Get full journal access for 1 year
$199.00
only $3.90 per issue
All prices are NET prices.
VAT will be added later in the checkout.
Rent or Buy article
Get time limited or full article access on ReadCube.
from$8.99
All prices are NET prices.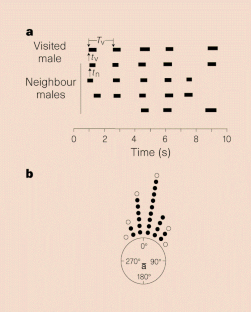 References
1

Greenfield, M. D. Annu. Rev. Ecol. Syst. 25, 97–126 (1994).

2

Greenfield, M. D. & Roizen, I. Nature 364, 618–620 (1993).

3

Sismondo, E. Science 249, 55–58 (1990).

4

Backwell, P. R. Y. & Passmore, N. I. Behav. Ecol. Sociobiol. 38, 407–416 (1996).

5

Gordon, H. R. S. An. Behav. 134, 238–241 (1958).
Comments
By submitting a comment you agree to abide by our Terms and Community Guidelines. If you find something abusive or that does not comply with our terms or guidelines please flag it as inappropriate.