Abstract
Myostatin is a negative regulator of myogenesis, and inactivation of myostatin leads to muscle growth. Here we have used modified RNA oligonucleotides targeting the myostatin mRNA and examined the therapeutic potential in normal and cancer cachexia mouse models. We found that the RNA oligonucleotides could suppress the myostatin expression in vivo, leading to the increase in muscle growth both in normal and cachectic mice. We also established that the effect of myostatin inhibition caused by the RNA oligonucleotides may be through the MyoD pathway, as evidenced by a significant upregulation of MyoD expression. Taken together, these results demonstrate the feasibility using antisense strategy for the treatment of muscle wasting conditions.
Relevant articles
Open Access articles citing this article.
S. Levolger

,

E. A. C. Wiemer

…

R. W. F. de Bruin

Scientific Reports Open Access 08 July 2019

Olivier Monestier

,

Caroline Brun

…

Véronique Blanquet

BMC Genomics Open Access 10 October 2012

Sílvia Busquets

,

Míriam Toledo

…

Josep M. Argilés

Journal of Cachexia, Sarcopenia and Muscle Open Access 08 November 2011
Access options
Subscribe to this journal
Receive 12 print issues and online access
$259.00 per year
only $21.58 per issue
Rent or buy this article
Get just this article for as long as you need it
$39.95
Prices may be subject to local taxes which are calculated during checkout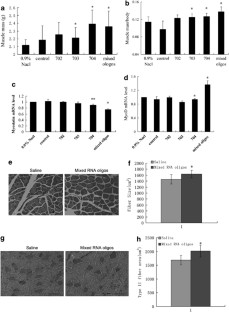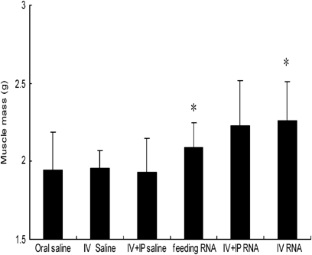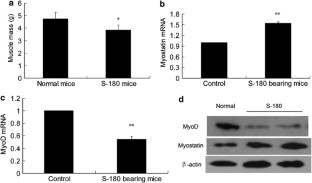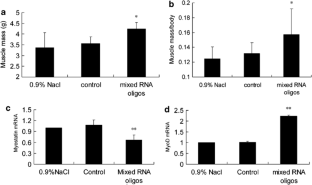 References
Lecker SH, Solomon V, Mitch WE, Goldberg AL . Muscle protein breakdown and critical role of the ubiquitin-proteasome pathway in normal and disease states. J Nutr 1999; 129: 227S–237S.

Jackamn RW, Kandarian SC . The molecular basis of skeletal muscle atrophy. Am J Physiol Cell Physiol 2004; 287: C834–C843.

Gonzalez-Cadavid NF, Bhasin S . Role of myostatin in metabolism. Curr Opin Clin Nutr Metab Care 2004; 7: 451–457.

McPherron AC, Lawler AM, Lee SJ . Regulation of skeletal muscle mass in mice by a new TGF-beta superfamily member. Nature 1997; 387: 83–90.

Grobet L, Pirottin D, Farnir F, Poncelet D, Royo LJ, Brouwers B et al. Modulating skeletal muscle mass by postnatal, muscle-specific inactivation of the Myostatin gene. Genesis 2003; 35: 227–238.

Bogdanovich S, Krag TO, Barton ER, Morris LD, Whittemore LA, Ahima RS et al. Functional improvement of dystrophic muscle by myostatin blockade. Nature 2002; 28: 418–421.

Baracos VE, DeVivo C, Hoyle DH, Goldberg AL . Activation of the ATP-ubiquitin proteasome pathway in skeletal muscle of cachectic rats bearing a hepatoma. Am J Physiol 1995; 268: E996–E1006.

Whittemore LA, Song K, Li X, Aghajanian J, Davies M, Girgenrath S et al. Inhibition of myostatin in adult mice increases skeletal muscle mass and strength. Biochem Biophys Res Commun 2003; 300: 965–971.

Magee TR, Artaza JN, Ferrini MG, Vernet D, Zuniga L, Reisz-Porszasz S et al. Myostatin short interfering hairpin RNA gene transfer increases skeletal muscle mass. J Gene Med 2006; 8: 1171–1181.

Yarasheski KE, Bhasin S, Sinha-Hikim I, Pak-Loduca J, Gonzalez-Cadavid NF . Serum myostatin-immunoreactive protein is increased in 60–92 year old women and men with muscle wasting. J. Nutr Health Aging 2002; 6: 343–348.

Dasarathy S, Dodig M, Muc SM, Kalhan SC, McCullough AJ . Skeletal muscle atrophy is associated with an increased expression of myostatin and impaired satellite cell function in the portacaval anastamosis rat. Am J Physiol Gastrointest Liver Physiol 2004; 287: G1124–G1130.

Gonzalez-Cadavid NF, Taylor WE, Yarasheski K, Sinha-Hikim I, Ma K, Ezzat S et al. Organization of the human Myostatin gene and expression in healthy men and HIV infected men with muscle wasting. Proc Natl Acad Sci USA 1998; 95: 14938–14943.

Tsuchidak K . Activins, myostatin and related TGF-beta family members as novel therapeutic targets for endocrine, metabolic and immune disorders. Curr Drug Targets Immune Endocr Metabol Disord 2004; 4: 157–166.

Lee SJ . Regulation of muscle mass by myostatin. Annu Rev Cell Dev Biol 2004; 20: 61–86.

Joulia D, Bernardi H, Garandel V, Rabenoelina F, Vernus B, Cabello G . Mechanisms involved in the inhibition of myoblast proliferation and differentiation by myostatin. Exp Cell Res 2003; 286: 263–275.

Edmondson DG, Olson EN . A gene with homology to the myc similarity region of MyoD1 is expressed during myogenesis and is sufficient to activate the muscle differentiation program. Genes Dev 1989; 3: 628–640.

Weintraub H, Tapscott SJ, Davis RL, Thayer MJ, Adam MA, Lassar AB et al. Activation of muscle-specific genes in pigment, nerve, fat, liver, and fibroblast cell lines by forced expression of MyoD. Proc Natl Acad Sci USA 1989; 86: 5434–5438.

Kollias HD, Perry RL, Miyake T, Aziz A, McDermott JC . Smad7 promotes and enhances skeletal muscle differentiation. Mol Cell Biol 2006; 26: 6248–6260.

Amthor H, Otto A, Macharia R, McKinnell I, Patel K . Myostatin imposes reversible quiescence on embryonic muscle precursors. Dev Dyn 2006; 235: 672–680.
About this article
Cite this article
Liu, CM., Yang, Z., Liu, CW. et al. Myostatin antisense RNA-mediated muscle growth in normal and cancer cachexia mice. Gene Ther 15, 155–160 (2008). https://doi.org/10.1038/sj.gt.3303016
Received:

Revised:

Accepted:

Published:

Issue Date:

DOI: https://doi.org/10.1038/sj.gt.3303016
Keywords
myostatin

antisense

muscle wasting

cancer cachexia