Abstract
The effect of adenovirus-mediated interleukin-2 (IL-2) gene on rat basal nociceptive response and chronic neuropathic pain was explored. The paw withdrawal latency induced by radiant heat was used to evaluate the antinociceptive effect of adenovirus type 5 (Ad5) and Ad5-IL-2. The results showed that intrathecal delivery of Ad5-IL-2 exhibited obvious antinociceptive effects on basal nociceptive response and chronic neuropathic pain, which were maintained for 3 and 4 weeks, respectively. This suggested that the antinociceptive effect of Ad5-IL-2 on chronic neuropathic pain was greater than its effect on basal nociceptive response. Human IL-2 mRNA was detected by in situ hybridization in the spinal pia mater and parenchyma of the lumbar, sacral, thoracic and cervical regions, and gray matter had higher level of IL-2 expression than white matter. These data demonstrated that the IL-2 gene was transfected into spinal cord regions relevant to pain modulation. The expressed IL-2 protein profile in spinal cord detected by enzyme-linked immunosorbent assay coincided almost exactly with its antinociceptive effect. This supported the hypothesis that the therapeutic effect of IL-2 gene was related to IL-2 protein expression. The study indicates that intrathecal delivery of adenovirus-mediated IL-2 gene has a relatively long antinociceptive effect.
Relevant articles
Open Access articles citing this article.
Julita A. Teodorczyk-Injeyan

,

John J. Triano

…

H. Stephen Injeyan

Chiropractic & Manual Therapies Open Access 08 January 2021

Shuanglin Hao

,

Marina Mata

…

David J Fink

Molecular Pain Open Access 17 February 2006
Access options
Subscribe to this journal
Receive 12 print issues and online access
$259.00 per year
only $21.58 per issue
Rent or buy this article
Get just this article for as long as you need it
$39.95
Prices may be subject to local taxes which are calculated during checkout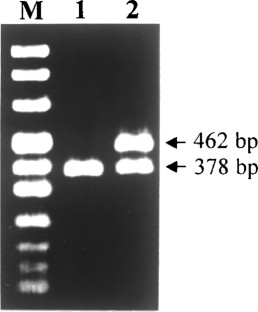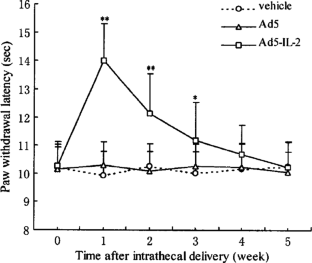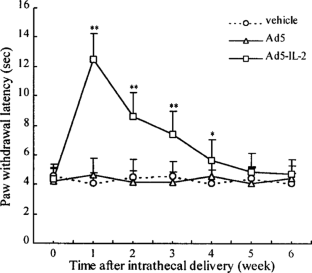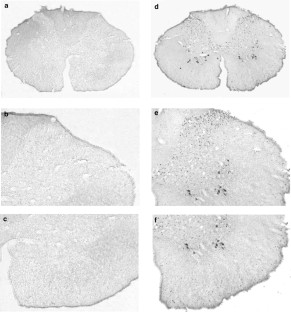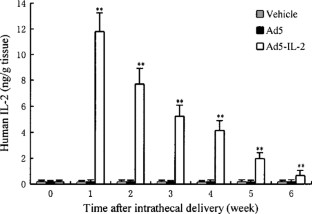 References
Hanisch UK, Quirion R . Interleukin-2 as a neuroregulatory cytokine. Brain Res Brain Res Rev 1995; 21: 246–284.

Jiang CL, Lu CL . Interleukin-2 and its effects in the central nervous system. Biol Signals Recept 1998; 7: 148–156.

Lapchak PA, Araujo DM, Quirion R, Beaudet A . Immunoautoradiographic localization of interleukin 2-like immunoreactivity and interleukin 2 receptors (Tac antigen-like immunoreactivity) in the rat brain. Neuroscience 1991; 44: 173–184.

Song P, Zhao ZQ, Liu XY . Expression of IL-2 receptor in dorsal root ganglion neurons and peripheral antinociception. Neuroreport 2000; 11: 1433–1436.

Bindoni M et al. Interleukin 2 modifies the bioelectric activity of some neurosecretory nuclei in the rat hypothalamus. Brain Res 1988; 462: 10–14.

Tancredi V et al. Interleukin-2 suppresses established long-term potentiation and inhibits its induction in the rat hippocampus. Brain Res 1990; 525: 149–151.

Jiang CL et al. The central analgesic effect of IL-2. Chin J Appl Physiol 1994; 10: 322–324.

Wang Y et al. Human interleukin-2 could bind to opioid receptor and induce corresponding signal transduction. Neuroreport 1996; 8: 11–14.

Zhao ZQ, Yang HQ, Liu XY . Inhibitory action of immunoregulator interleukin-2 on pain-sensitive spinal neurons in the cat. Chin J Neurosci 1994; 1: 37–42.

Song P, Zhao ZQ . Interleukin 2-induced antinociception partially coupled with mu receptor. Cytokine 2000; 12: 1240–1242.

Wang Y et al. The analgesic domain of IL-2. Biochem Biophys Res Commun 1997; 230: 542–545.

Jiang CL et al. Interleukin-2: structural and biological relatedness to opioid peptides. Neuroimmunomodulation 2000; 8: 20–24.

Wu X et al. Effects of intra-hippocampal injection of interleukin-2 on pain threshold and formaldehyde-induced substance P-like immunoreactivity in periaqueductal gray and spinal cord. Acta Pharmacol Sin 1999; 20: 839–843.

Guo H, Zhao ZQ . Inhibition of nociceptive withdrawal reflex by microinjection of interleukin 2 into rat locus coeruleus. Neuropeptides 2000; 34: 216–220.

Jiang CL et al. Leu-enkephalin induced by IL-2 administration mediates analgesic effect of IL-2. Neuroreport 2000; 11: 1483–1485.

Lotze MT et al. In vivo administration of purified human interleukin 2. I. Half-life and immunologic effects of the Jurkat cell line-derived interleukin 2. J Immunol 1985; 134: 157–166.

Donohue JH et al. In vivo administration of purified Jurkat-derived interleukin-2 in mice. Cancer Res 1984; 44: 1380–1386.

Konrad MW et al. Pharmacokinetics of recombinant interleukin 2 in humans. Cancer Res 1990; 50: 2009–2017.

Yao MZ et al. Interleukin-2 gene therapy of chronic neuropathic pain. Neuroscience 2002; 112: 409–416.

Yao MZ et al. Interleukin-2 gene has superior antinociceptive effects when delivered intrathecally. Neuroreport 2002; 13: 791–794.

Finegold AA, Mannes AJ, Iadarola MJ . A paracrine paradigm for in vivo gene therapy in the central nervous system: treatment of chronic pain. Hum Gene Ther 1999; 10: 1251–1257.

Bennett GJ, Xie YK . A peripheral mononeuropathy in rat that produces disorders of pain sensation like those seen in man. Pain 1988; 33: 87–107.

Hargreaves K et al. A new and sensitive method for measuring thermal nociception in cutaneous hyperalgesia. Pain 1988; 32: 77–88.

Mannes AJ, Caudle RM, O'Connell BC, Iadarola MJ . Adenoviral gene transfer to spinal cord neurons: intrathecal vs intraparenchymal administration. Brain Res 1998; 793: 1–6.

Sharma SK, Nirnberg M, Klee WA . Morphine receptors as regulators of adenylate cyclase activity. Proc Natl Acad Sci USA 1975; 72: 590–594.

Plata-Salaman CR, Ffrench-Mullen JM . Interleukin-2 modulates calcium currents in dissociated hippocampal CA1 neurons. Neuroreport 1993; 4: 579–581.

De Blasi S, Rustioni A . Glutamate and substance P coexist in primary afferent terminals in the superficial laminae of spinal cord. Proc Natl Acad Sci USA 1988; 85: 7820–7824.

Ding YQ, Nomura S, Kaneko T, Mizuno N . Co-localization of μ opioid receptor-like and substance P-like immunoreactivities in axon terminals within the superficial layers of the medullary and spinal dorsal horns of the rat. Neurosci Lett 1995; 198: 45–48.

Merighi A, Polak JM, Theodosis DT . Ultrastructural visualization of glutamate and aspartate immunoreactivities in the rat dorsal horn, with special reference to the co-localization of glutamate, substance P and calcitonin-gene related peptide. Neuroscience 1991; 40: 67–80.

Sun JT et al. A study of the construction of different expression vectors containing IL-2 gene and their expressions in eukaryotic cells. Acta Biochem Biophys Sin 1995; 27: 247–252.

Sladowski D, Steer SJ, Clothier RH, Balls M . An improved MTT assay. J Immunol Methods 1993; 157: 203–207.

Storkson RV, Kjorsvik A, Tjolsen A, Hole K . Lumbar catheterization of the spinal subarachnoid space in the rat. J Neurosci Methods 1996; 65: 167–172.

Milligan ED et al. A method for increasing the viability of the external portion of lumbar catheters placed in the spinal subarachnoid space of rats. J Neurosci Methods 1999; 90: 81–86.
Acknowledgements
We thank Professor Gang Pei, Dr Martin Ramsden and Guangcheng Ji for their invaluable scientific support.
About this article
Cite this article
Yao, M., Gu, J., Wang, J. et al. Adenovirus-mediated interleukin-2 gene therapy of nociception. Gene Ther 10, 1392–1399 (2003). https://doi.org/10.1038/sj.gt.3301992
Received:

Accepted:

Published:

Issue Date:

DOI: https://doi.org/10.1038/sj.gt.3301992
Keywords
adenovirus

interleukin-2

gene therapy

intrathecal delivery

nociception

antinociceptive effect
This article is cited by
Julita A. Teodorczyk-Injeyan
John J. Triano
H. Stephen Injeyan

Chiropractic & Manual Therapies (2021)

Shuanglin Hao
Marina Mata
David J Fink

Molecular Pain (2006)