In 1985, a group of botanists from the University of Oxford studied the flora of the Seychelles. Their artist, Rosemary Wise, spent the next ten years painting these unusual and threatened plants. Her work, including Nepenthes pervillei (above), can be found in AFragile Eden: Portraits of the Endemic Flowering Plants of the Granitic Seychelles (Princeton University Press, $75).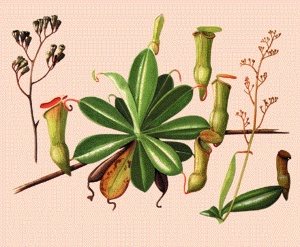 About this article
Cite this article
Floral prints. Nature 393, 639 (1998). https://doi.org/10.1038/31385
Comments
By submitting a comment you agree to abide by our Terms and Community Guidelines. If you find something abusive or that does not comply with our terms or guidelines please flag it as inappropriate.