Abstract
A high proportion of all cases of congenital deafness is causedby mutations in a gene coding for a gap-junction protein,connexin 26. The deafness associated with this gene, Cx26, is the autosomal recessive form, DFNB1(refs 1–3); its involvement in autosomal dominant forms of deafness has remained controversial4. Here we show that a mutation in Cx26 underlies the dominant form of deafness, DFNA3.
Access options
Subscribe to Journal
Get full journal access for 1 year
$199.00
only $3.90 per issue
All prices are NET prices.
VAT will be added later in the checkout.
Tax calculation will be finalised during checkout.
Rent or Buy article
Get time limited or full article access on ReadCube.
from$8.99
All prices are NET prices.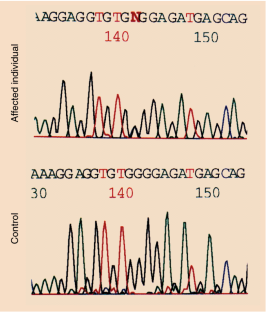 References
1

Kelsell, D. P. et al. Nature 387, 80–83 (1997).

2

Denoyelle, F. et al. Hum. Mol. Genet. 6, 2173–2177 (1997).

3

Zelante, L. et al. Hum. Mol. Genet. 6, 1605–1609 (1997).

4

Scott, D. A. et al. Nature 391, 32 (1998).

5

Fraser, G. R. The Causes of Profound Deafness in Childhood (Johns Hopkins University Press, Baltimore, 1976).

6

Petit, C. Nature Genet. 14, 385–391 (1996).

7

Van Camp, G. & Smith, R. J. H. Hereditary Hearing Loss Homepage. http://dnalab-www.uia.ac.be/dnalab/hhh (1998).

8

Chaib, H. et al. Hum. Mol. Genet. 3, 2219–2222 (1994).

9

Bruzzone, R., White, T. W. & Goodenough D. A. BioEssays 18 709–718 (1996).

10

Dahl, G., Werner, R., Levine, E. & Rabadan-Diehl, C. Biophys. J. 62, 172–182 (1992).

11

Yaeger, M. & Nicholson, B. J. Curr. Opin. Struct. Biol. 6, 183–192 (1996).

12

Scherer, S. S.et al. in Cell Biology and Pathology of Myelin (eds. Juurlink, B. H. J. et al.) 83-102 (Plenum, New York, 1997).

13

Liu, X.-Z. et al. Nature Genet. 16, 188–190 (1997).

14

Weil, D. et al. Nature Genet. 16, 191–193 (1997).

15

Liu, X.-Z. et al. Nature Genet. 17, 268–269 (1997) .
About this article
Cite this article
Denoyelle, F., Lina-Granade, G., Plauchu, H. et al. Connexin 26 gene linked to a dominant deafness. Nature 393, 319–320 (1998). https://doi.org/10.1038/30639
Comments
By submitting a comment you agree to abide by our Terms and Community Guidelines. If you find something abusive or that does not comply with our terms or guidelines please flag it as inappropriate.