Abstract
Signal transducer and activator of transcription (Stat)3 is constitutively activated in cutaneous T-cell lymphoma (CTCL), where it protects tumour cells against apoptosis. The constitutive activation of Stat3 leads to a constitutive expression of suppressor of cytokine signalling (SOCS)-3. In healthy cells, SOCS-3 is transiently expressed following cytokine stimulation and functions as a negative feedback inhibitor of the Stat3-activating kinases. Here, we attempt to resolve the apparent paradox of a simultaneous SOCS-3 expression and Stat3 activation in the same cells. We show that (i) SOCS-3 expression in tumour cells is equal to or higher than in cytokine-stimulated nonmalignant T cells, (ii) SOCS-3 is not mutated in CTCL, (iii) overexpression of SOCS-3 blocks IFNα-mediated growth inhibition without affecting Stat3 activation, growth, and apoptosis, and (iv) inhibition of SOCS-3 by a dominant negative Stat3 (Stat3D) increases the IFNα-mediated growth inhibition. Taken together, these data show that SOCS-3 does not inhibit Stat3 activation, growth, and survival in CTCL. In contrast, SOCS3 protects tumour cells against growth inhibition by IFNα. Unlike SOCS-1, SOCS-3 is therefore not a tumour suppressor but rather a protector of tumour cells.
Relevant articles
Open Access articles citing this article.
Hanan R. Nada

,

Laila A. Rashed

…

Mohamed M. Abdelhady

Archives of Dermatological Research Open Access 28 February 2022

Tsung-Chuan Ho

,

Shawn H. Tsai

…

Yeou-Ping Tsao

Stem Cell Research & Therapy Open Access 03 January 2019

Archana Bajpai

,

Takashi Ishii

…

Hiroaki Kitano

Scientific Reports Open Access 20 November 2017
Access options
Subscribe to this journal
Receive 12 print issues and online access
$259.00 per year
only $21.58 per issue
Rent or buy this article
Get just this article for as long as you need it
$39.95
Prices may be subject to local taxes which are calculated during checkout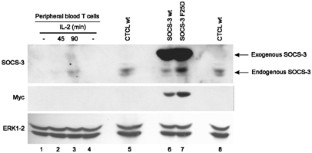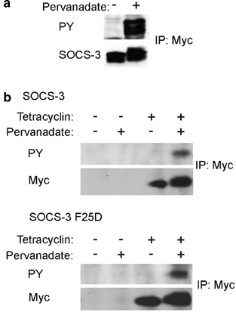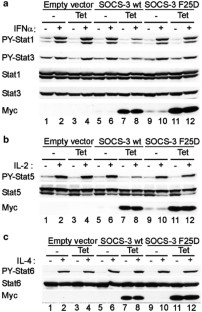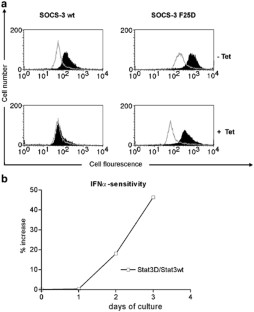 References
Frank DA . STAT signaling in the pathogenesis and treatment of cancer. Mol Med 1999; 5: 432–456.

Zhang Q, Raghunath PN, Xue L, Majewski M, Carpentieri DF, Odum N et al. Multilevel dysregulation of STAT3 activation in anaplastic lymphoma kinase-positive T/null-cell lymphoma. J Immunol 2002; 168: 466–474.

Bromberg JF, Horvath CM, Besser D, Lathem WW, Darnell Jr JE . Stat3 activation is required for cellular transformation by v-src. Mol Cell Biol 1998; 18: 2553–2558.

Turkson J, Bowman T, Garcia R, Caldenhoven E, de Groot RP, Jove R . Stat3 activation by Src induces specific gene regulation and is required for cell transformation. Mol Cell Biol 1998; 18: 2545–2552.

de Groot RP, Raaijmakers JA, Lammers JW, Jove R, Koenderman L . STAT5 activation by BCR-Abl contributes to transformation of K562 leukemia cells. Blood 1999; 94: 1108–1112.

Nieborowska-Skorska M, Wasik MA, Slupianek A, Salomoni P, Kitamura T, Calabretta B et al. Signal transducer and activator of transcription (STAT)5 activation by BCR/ABL is dependent on intact Src homology (SH)3 and SH2 domains of BCR/ABL and is required for leukemogenesis. J Exp Med 1999; 189: 1229–1242.

Bromberg JF, Wrzeszczynska MH, Devgan G, Zhao Y, Pestell RG, Albanese C et al. Stat3 as an oncogene. Cell 1999; 98: 295–303.

Alexander WS, Starr R, Fenner JE, Scott CL, Handman E, Sprigg NS et al. SOCS1 is a critical inhibitor of interferon gamma signaling and prevents the potentially fatal neonatal actions of this cytokine. Cell 1999; 98: 597–608.

Metcalf D, Greenhalgh CJ, Viney E, Willson TA, Starr R, Nicola NA et al. Gigantism in mice lacking suppressor of cytokine signalling-2. Nature 2000; 405: 1069–1073.

Alexander WS . Suppressors of cytokine signalling (SOCS) in the immune system. Nat Rev Immunol 2002; 2: 410–416.

Yoshikawa H, Matsubara K, Qian GS, Jackson P, Groopman JD, Manning JE et al. SOCS-1, a negative regulator of the JAK/STAT pathway, is silenced by methylation in human hepatocellular carcinoma and shows growth-suppression activity. Nat Genet 2001; 28: 29–35.

Galm O, Yoshikawa H, Esteller M, Osieka R, Herman JG . SOCS-1, a negative regulator of cytokine signaling, is frequently silenced by methylation in multiple myeloma. Blood 2003; 101: 2784–2788.

Chen CY, Tsay W, Tang JL, Shen HL, Lin SW, Huang SY et al. SOCS1 methylation in patients with newly diagnosed acute myeloid leukemia. Genes Chromosomes Cancer 2003; 37: 300–305.

Fukushima N, Sato N, Sahin F, Su GH, Hruban RH, Goggins M . Aberrant methylation of suppressor of cytokine signalling-1 (SOCS-1) gene in pancreatic ductal neoplasms. Br J Cancer 2003; 89: 338–343.

Zardo G, Tiirikainen MI, Hong C, Misra A, Feuerstein BG, Volik S et al. Integrated genomic and epigenomic analyses pinpoint biallelic gene inactivation in tumors. Nat Genet 2002; 32: 453–458.

Rottapel R, Ilangumaran S, Neale C, La Rose J, Ho JM, Nguyen MH et al. The tumor suppressor activity of SOCS-1. Oncogene 2002; 21: 4351–4362.

Iwamoto T, Senga T, Naito Y, Matsuda S, Miyake Y, Yoshimura A et al. The JAK-inhibitor, JAB/SOCS-1 selectively inhibits cytokine-induced, but not v-Src induced JAK-STAT activation. Oncogene 2000; 19: 4795–4801.

Frantsve J, Schwaller J, Sternberg DW, Kutok J, Gilliland DG . Socs-1 inhibits TEL-JAK2-mediated transformation of hematopoietic cells through inhibition of JAK2 kinase activity and induction of proteasome-mediated degradation. Mol Cell Biol 2001; 21: 3547–3557.

Brender C, Nielsen M, Kaltoft K, Mikkelsen G, Zhang Q, Wasik M et al. STAT3-mediated constitutive expression of SOCS-3 in cutaneous T-cell lymphoma. Blood 2001; 97: 1056–1062.

Schuringa JJ, Wierenga AT, Kruijer W, Vellenga E . Constitutive Stat3, Tyr705, and Ser727 phosphorylation in acute myeloid leukemia cells caused by the autocrine secretion of interleukin-6. Blood 2000; 95: 3765–3770.

Sakai I, Takeuchi K, Yamauchi H, Narumi H, Fujita S . Constitutive expression of SOCS3 confers resistance to IFN-alpha in chronic myelogenous leukemia cells. Blood 2002; 100: 2926–2931.

Nielsen M, Kaltoft K, Nordahl M, Ropke C, Geisler C, Mustelin T et al. Constitutive activation of a slowly migrating isoform of Stat3 in mycosis fungoides: tyrphostin AG490 inhibits Stat3 activation and growth of mycosis fungoides tumor cell lines. Proc Natl Acad Sci USA 1997; 94: 6764–6769.

Kaltoft K, Bisballe S, Dyrberg T, Boel E, Rasmussen PB, Thestrup-Pedersen K . Establishment of two continuous T-cell strains from a single plaque of a patient with mycosis fungoides. In Vitro Cell Dev Biol 1992; 28A (3 Part 1): 161–167.

Lovato P, Brender C, Agnholt J, Kelsen J, Kaltoft K, Svejgaard A et al. Constitutive STAT3 activation in intestinal T cells from patients with Crohn's disease. J Biol Chem 2003; 278: 16777–16781.

Brender C, Nielsen M, Ropke C, Nissen MH, Svejgaard A, Billestrup N et al. Interferon-alpha induces transient suppressors of cytokine signalling expression in human T cells. Exp Clin Immunogenet 2001; 18: 80–85.

Woetmann A, Nielsen M, Christensen ST, Brockdorff J, Kaltoft K, Engel AM et al. Inhibition of protein phosphatase 2A induces serine/threonine phosphorylation, subcellular redistribution, and functional inhibition of STAT3. Proc Natl Acad Sci USA 1999; 96: 10620–10625.

Cohney SJ, Sanden D, Cacalano NA, Yoshimura A, Mui A, Migone TS et al. SOCS-3 is tyrosine phosphorylated in response to interleukin-2 and suppresses STAT5 phosphorylation and lymphocyte proliferation. Mol Cell Biol 1999; 19: 4980–4988.

Cacalano NA, Sanden D, Johnston JA . Tyrosine-phosphorylated SOCS-3 inhibits STAT activation but binds to p120 RasGAP and activates Ras. Nat Cell Biol 2001; 3: 460–465.

Haan S, Ferguson P, Sommer U, Hiremath M, McVicar DW, Heinrich PC et al. Tyrosine Phosphorylation disrupts elongin interaction and accelerates SOCS3 degradation. J Biol Chem 2003; 278: 31972–31979.

Kerbel RS . Expression of multi-cytokine resistance and multi-growth factor independence in advanced stage metastatic cancer. Malignant melanoma as a paradigm. Am J Pathol 1992; 141: 519–524.

Kaplan DH, Shankaran V, Dighe AS, Stockert E, Aguet M, Old LJ et al. Demonstration of an interferon gamma-dependent tumor surveillance system in immunocompetent mice. Proc Natl Acad USA 1998; 95: 7556–7561.

Nielsen M, Kaestel CG, Eriksen KW, Woetmann A, Stokkedal T, Kaltoft K et al. Inhibition of constitutively activated Stat3 correlates with altered Bcl-2/Bax expression and induction of apoptosis in mycosis fungoides tumor cells. Leukemia 1999; 13: 735–738.

Nielsen M, Nissen MH, Gerwien J, Zocca MB, Rasmussen HM, Nakajima K et al. Spontaneous interleukin-5 production in cutaneous T-cell lymphoma lines is mediated by constitutively activated Stat3. Blood 2002; 99: 973–977.

Hanada T, Yoshida T, Kinjyo I, Minoguchi S, Yasukawa H, Kato S et al. A mutant form of JAB/SOCS1 augments the cytokine-induced JAK/STAT pathway by accelerating degradation of wild-type JAB/CIS family proteins through the SOCS-box. J Biol Chem 2001; 276: 40746–40754.

Ross C, Tingsgaard P, Jorgensen H, Vejlsgaard GL . Interferon treatment of cutaneous T-cell lymphoma. Eur J Haematol 1993; 51: 63–72.

Sun WH, Pabon C, Alsayed Y, Huang PP, Jandeska S, Uddin S et al. Interferon-alpha resistance in a cutaneous T-cell lymphoma cell line is associated with lack of STAT1 expression. Blood 1998; 91: 570–576.

Sommer VH, Clemmensen OJ, Nielsen O, Wasik M, Lovato P, Brender C et al. In vivo activation of STAT3 in cutaneous T-cell lymphoma. Evidence for an antiapoptotic function of STAT3. Leukemia 2004; 18: 1288–1295.
Acknowledgements
This work was supported by the University of Copenhagen PhD programme (for CB and AW), The Danish Colitis Crohn Foundation, The Danish Research Councils, Danish Biotechnological Centre for Cellular Communication, Novo Nordic Foundation, Becketts Fond, Danish Medical Association Research Foundation, The Danish Cancer Research Foundation (Dansk Kræftsforsknings Fond), The Danish Cancer Society, Ingeborg and Leo Dannins Foundation, The Lundbeck Foundation, Gerda and Aage Haensch's Foundation, Danish Rheumatism Association, National Cancer Institute and NIH R01-CA89194 grant (for MW). PL is the recipient of a fellowship from Alfred Benzon Foundation.
About this article
Cite this article
Brender, C., Lovato, P., Sommer, V. et al. Constitutive SOCS-3 expression protects T-cell lymphoma against growth inhibition by IFNα. Leukemia 19, 209–213 (2005). https://doi.org/10.1038/sj.leu.2403610
Received:

Accepted:

Published:

Issue Date:

DOI: https://doi.org/10.1038/sj.leu.2403610
Keywords
SOCS-3

CTCL

tumour suppressor