Abstract
Older patients with acute myeloid leukemia (AML) and advanced myelodysplastic syndrome (aMDS) must decide between receiving intensive induction chemotherapy (IC) or nonintensive chemotherapy/best supportive care (NIC). Little information exists about what factors influence treatment decisions and what quality of life (QOL) is associated with treatment choices. We prospectively examined 43 patients 60 years or older who were interviewed at diagnosis and periodically over 1 year. IC choice was associated with younger age (66 vs 76 years, P=0.01) and AML diagnosis, but not with performance status, comorbidities, or QOL. In total, 63% of all patients reported not being offered other treatment options despite physician documentation of alternatives. Patient and physician estimates of cure differed significantly: 74% of patients estimated their chance of cure to be 50% or greater, yet for 89% of patients physician estimates of cure were 10% or less. IC patients experienced decreased QOL at 2 weeks, but rebounded to baseline and to NIC levels by 6 weeks. Initial QOL is not associated with treatment choice in older AML and aMDS patients. Regardless of treatment choice, patients report not being offered treatment options and overestimate their chances of cure. In IC patients, QOL decreases during hospitalization but rebounds after discharge.
Relevant articles
Open Access articles citing this article.
Keith W. Pratz

,

Panayiotis Panayiotidis

…

Walter Fiedler

Blood Cancer Journal Open Access 20 April 2022

Rebecca Crawford

,

Kate Sully

…

Adam Gater

The Patient - Patient-Centered Outcomes Research Open Access 28 August 2019
Access options
Subscribe to this journal
Receive 12 print issues and online access
$259.00 per year
only $21.58 per issue
Rent or buy this article
Prices vary by article type
from$1.95
to$39.95
Prices may be subject to local taxes which are calculated during checkout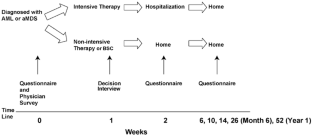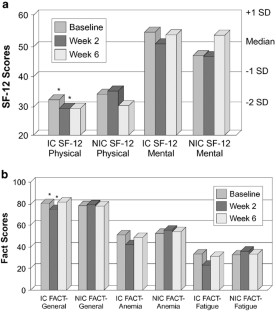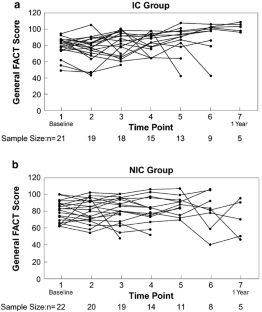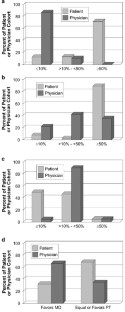 References
Ries L, Eisner M, Kosary C (eds) SEER Cancer Statistics Review, 1973–1999. Bethesda, Maryland: National Cancer Institute, 2002.

Parkin D, Muir C, Whelan S, Gao Y, Ferlay J, Powell J . Cancer Incidence in Five Continents, World Health Organization, International Agency for Research on Cancer, Vol. VI Lyon, France: IARC Scientific Publication No. 120, 1992.

Estey EH, Keating MJ, McCredie KB, Bodey GP, Freireich EJ . Causes of initial remission induction failure in acute myelogenous leukemia. Blood 1982; 60: 309–315.

Estey EH . Treatment of acute myelogenous leukemia and myelodysplastic syndromes. Semin Hematol 1995; 32: 132–151.

Bishop JF, Lowenthal RM, Joshua D, Matthews JP, Todd D, Cobcroft R et al. Etoposide in acute nonlymphocytic leukemia. Australian Leukemia Study Group. Blood 1990; 75: 27–32.

Bishop JF, Matthews JP, Young GA, Szer J, Gillett A, Joshua D et al. A randomized study of high-dose cytarabine in induction in acute myeloid leukemia. Blood 1996; 87: 1710–1717.

Mayer RJ, Davis RB, Schiffer CA, Berg DT, Powell BL, Schulman P et al. Intensive postremission chemotherapy in adults with acute myeloid leukemia. Cancer and Leukemia Group B. N Engl J Med 1994; 331: 896–903.

Rees JK, Gray RG, Wheatley K . Dose intensification in acute myeloid leukaemia: greater effectiveness at lower cost. Principal report of the Medical Research Council's AML9 study. MRC Leukaemia in Adults Working Party. Br J Haematol 1996; 94: 89–98.

Weick JK, Kopecky KJ, Appelbaum FR, Head DR, Kingsbury LL, Balcerzak SP et al. A randomized investigation of high-dose versus standard-dose cytosine arabinoside with daunorubicin in patients with previously untreated acute myeloid leukemia: a Southwest Oncology Group study. Blood 1996; 88: 2841–2851.

Burnett A . Tailoring the treatment of acute myeloid leukemia. Curr Opin Oncol 1999; 11: 14–19.

Preisler H, Davis RB, Kirshner J, Dupre E, Richards F, Hoagland HC et al. Comparison of three remission induction regimens and two postinduction strategies for the treatment of acute nonlymphocytic leukemia: a cancer and leukemia group B study. Blood 1987; 69: 1441–1449.

Rees JK, Gray RG, Swirsky D, Hayhoe FG . Principal results of the Medical Research Council's 8th acute myeloid leukaemia trial. Lancet 1986; 2: 1236–1241.

Dillman RO, Davis RB, Green MR, Weiss RB, Gottlieb AJ, Caplan S et al. A comparative study of two different doses of cytarabine for acute myeloid leukemia: a phase III trial of Cancer and Leukemia Group B. Blood 1991; 78: 2520–2526.

Heath C . Epidemiology and hereditary aspects of acute leukemia. In: Wiernik P, Canellos G, Dutcher J, Kyle R (eds) Neoplastic Disease of the Blood. New York, NY: Churchill Livingstone, 1996, pp 177.

Stone RM, Berg DT, George SL, Dodge RK, Paciucci PA, Schulman PP et al. Postremission therapy in older patients with de novo acute myeloid leukemia: a randomized trial comparing mitoxantrone and intermediate-dose cytarabine with standard-dose cytarabine. Blood 2001; 98: 548–553.

Stone RM, Berg DT, George SL, Dodge RK, Paciucci PA, Schulman P et al. Granulocyte–macrophage colony-stimulating factor after initial chemotherapy for elderly patients with primary acute myelogenous leukemia. Cancer and Leukemia Group B. N Engl J Med 1995; 332: 1671–1677.

Witz F, Sadoun A, Perrin MC, Berthou C, Briere J, Cahn JY et al. A placebo-controlled study of recombinant human granulocyte–macrophage colony-stimulating factor administered during and after induction treatment for de novo acute myelogenous leukemia in elderly patients. Groupe Ouest Est Leucemies Aigues Myeloblastiques (GOELAM). Blood 1998; 91: 2722–2730.

Lowenberg B, Suciu S, Archimbaud E, Ossenkoppele G, Verhoef GE, Vellenga E et al. Use of recombinant GM-CSF during and after remission induction chemotherapy in patients aged 61 years and older with acute myeloid leukemia: final report of AML-11, a phase III randomized study of the Leukemia Cooperative Group of European Organisation for the Research and Treatment of Cancer and the Dutch Belgian Hemato-Oncology Cooperative Group. Blood 1997; 90: 2952–2961.

Rubin EH, Andersen JW, Berg DT, Schiffer CA, Mayer RJ, Stone RM . Risk factors for high-dose cytarabine neurotoxicity: an analysis of a cancer and leukemia group B trial in patients with acute myeloid leukemia. J Clin Oncol 1992; 10: 948–953.

Smith GA, Damon LE, Rugo HS, Ries CA, Linker CA . High-dose cytarabine dose modification reduces the incidence of neurotoxicity in patients with renal insufficiency. J Clin Oncol 1997; 15: 833–839.

Leith CP, Kopecky KJ, Godwin J, McConnell T, Slovak ML, Chen IM et al. Acute myeloid leukemia in the elderly: assessment of multidrug resistance (MDR1) and cytogenetics distinguishes biologic subgroups with remarkably distinct responses to standard chemotherapy. A Southwest Oncology Group study. Blood 1997; 89: 3323–3329.

Leith CP, Kopecky KJ, Chen IM, Eijdems L, Slovak ML, McConnell TS et al. Frequency and clinical significance of the expression of the multidrug resistance proteins MDR1/P-glycoprotein, MRP1, and LRP in acute myeloid leukemia: a Southwest Oncology Group Study. Blood 1999; 94: 1086–1099.

Bloomfield CD, Lawrence D, Byrd JC, Carroll A, Pettenati MJ, Tantravahi R et al. Frequency of prolonged remission duration after high-dose cytarabine intensification in acute myeloid leukemia varies by cytogenetic subtype. Cancer Res 1998; 58: 4173–4179.

Hiddemann W, Kern W, Schoch C, Fonatsch C, Heinecke A, Wormann B et al. Management of acute myeloid leukemia in elderly patients. J Clin Oncol 1999; 17: 3569–3576.

Hoyle CF, de Bastos M, Wheatley K, Sherrington PD, Fischer PJ, Rees JK et al. AML associated with previous cytotoxic therapy, MDS or myeloproliferative disorders: results from the MRC's 9th AML trial. Br J Haematol 1989; 72: 45–53.

Foucar K, Langdon RM, Armitage JO, Olson DB, Carroll TJ . Myelodysplastic syndromes. A clinical and pathologic analysis of 109 cases. Cancer 1985; 56: 553–561.

Economopoulos T, Stathakis N, Foudoulakis A, Papadoulis N, Dervenoulas J, Papageorgiou E et al. Myelodysplastic syndromes: analysis of 131 cases according to the FAB classification. Eur J Haematol 1987; 38: 338–344.

Vallespi T, Torrabadella M, Julia A, Irriguible D, Jaen A, Acebedo G et al. Myelodysplastic syndromes: a study of 101 cases according to the FAB classification. Br J Haematol 1985; 61: 83–92.

Kerkhofs H, Hermans J, Haak HL, Leeksma CH . Utility of the FAB classification for myelodysplastic syndromes: investigation of prognostic factors in 237 cases. Br J Haematol 1987; 65: 73–81.

Estey E, Thall P, Beran M, Kantarjian H, Pierce S, Keating M . Effect of diagnosis (refractory anemia with excess blasts, refractory anemia with excess blasts in transformation, or acute myeloid leukemia [AML]) on outcome of AML-type chemotherapy. Blood 1997; 90: 2969–2977.

Harris NL, Jaffe ES, Diebold J, Flandrin G, Muller-Hermelink HK, Vardiman J et al. The World Health Organization classification of neoplastic diseases of the hematopoietic and lymphoid tissues. Report of the Clinical Advisory Committee meeting, Airlie House, Virginia, November, 1997. Ann Oncol 1999; 10: 1419–1432.

Estey EH . How I treat older patients with AML. Blood 2000; 96: 1670–1673.

Lowenberg B, Zittoun R, Kerkhofs H, Jehn U, Abels J, Debusscher L et al. On the value of intensive remission-induction chemotherapy in elderly patients of 65+ years with acute myeloid leukemia: a randomized phase III study of the European Organization for Research and Treatment of Cancer Leukemia Group. J Clin Oncol 1989; 7: 1268–1274.

Tilly H, Castaigne S, Bordessoule D, Casassus P, Le Prise PY, Tertian G et al. Low-dose cytarabine versus intensive chemotherapy in the treatment of acute nonlymphocytic leukemia in the elderly. J Clin Oncol 1990; 8: 272–279.

Ware Jr J, Kosinski M, Keller SD . A 12-Item Short-Form Health Survey: construction of scales and preliminary tests of reliability and validity. Med Care 1996; 34: 220–233.

Cella DF, Tulsky DS, Gray G, Sarafian B, Linn E, Bonomi A et al. The Functional Assessment of Cancer Therapy scale: development and validation of the general measure. J Clin Oncol 1993; 11: 570–579.

Cella D . The Functional Assessment of Cancer Therapy-Anemia (FACT-An) Scale: a new tool for the assessment of outcomes in cancer anemia and fatigue. Semin Hematol 1997; 34: 13–19.

Sheikh J, Yeasavage J . Geriatric depression scales (GDS): recent evidence and development of a shorter version. Clin Gerontol 1986; 5: 165–169.

Burke WJ, Roccaforte WH, Wengel SP, Conley DM, Potter JF . The reliability and validity of the Geriatric Depression Rating Scale administered by telephone. J Am Geriatr Soc 1995; 43: 674–679.

Weinberger M, Oddone EZ, Samsa GP, Landsman PB . Are health-related quality-of-life measures affected by the mode of administration? J Clin Epidemiol 1996; 49: 135–140.

Ware Jr JE, Sherbourne CD . The MOS 36-item short-form health survey (SF-36). I. Conceptual framework and item selection. Med Care 1992; 30: 473–483.

Strull W, Lo B, Charles G . Do patients want to participate in medical decision making? JAMA 1984; 252: 2990–2994.

Fillenbaum GG . Screening the elderly. A brief instrumental activities of daily living measure. J Am Geriatr Soc 1985; 33: 698–706.

Keating NL, Guadagnoli E, Landrum MB, Borbas C, Weeks JC . Treatment decision making in early-stage breast cancer: should surgeons match patients' desired level of involvement? J Clin Oncol 2002; 20: 1473–1479.

Liang W, Burnett CB, Rowland JH, Meropol NJ, Eggert L, Hwang YT et al. Communication between physicians and older women with localized breast cancer: implications for treatment and patient satisfaction. J Clin Oncol 2002; 20: 1008–1016.

Ravdin PM, Siminoff IA, Harvey JA . Survey of breast cancer patients concerning their knowledge and expectations of adjuvant therapy. J Clin Oncol 1998; 16: 515–521.

Lee SJ, Fairclough D, Antin JH, Weeks JC . Discrepancies between patient and physician estimates for the success of stem cell transplantation. JAMA 2001; 285: 1034–1038.

Fetting JH, Siminoff LA, Piantadosi S, Abeloff MD, Damron DJ, Sarsfield AM . Effect of patients' expectations of benefit with standard breast cancer adjuvant chemotherapy on participation in a randomized clinical trial: a clinical vignette study. J Clin Oncol 1990; 8: 1476–1482.

Molenaar S, Sprangers MA, Postma-Schuit FC, Rutgers EJ, Noorlander J, Hendriks J et al. Feasibility and effects of decision aids. Med Decis Making 2000; 20: 112–127.

Molenaar S, Sprangers MA, Rutgers EJ, Luiten EJ, Mulder J, Bossuyt PM et al. Decision support for patients with early-stage breast cancer: effects of an interactive breast cancer CDROM on treatment decision, satisfaction, and quality of life. J Clin Oncol 2001; 19: 1676–1687.

The AM, Hak T, Koeter G, van der Wal G . Collusion in doctor–patient communication about imminent death: an ethnographic study. West J Med 2001; 174: 247–253.

Gattellari M, Ward JE . Does evidence-based information about screening for prostate cancer enhance consumer decision-making? A randomised controlled trial. J Med Screen 2003; 10: 27–39.

Gattellari M, Voigt KJ, Butow PN, Tattersall MH . When the treatment goal is not cure: are cancer patients equipped to make informed decisions? J Clin Oncol 2002; 20: 503–513.

Schwartz LM, Woloshin S, Welch HG . Risk communication in clinical practice: putting cancer in context. J Natl Cancer Inst Monogr 1999, 124–133.
Additional information
Presented in part at the American Society of Hematology 43rd and 44th annual meetings (2001: Orlando, FL; 2002: Philadelphia, PA) and at Leukemia 2002: Towards the Cure (2002: Miami, FL).This study was completed at the Dana-Farber Cancer Institute and Minneapolis Veterans Administration Medical Center
Supplementary Information
Supplementary Information accompanies the paper on the Leukemia website (http://www.nature.com/leu).
Supplementary information
Number of patients completing surveys and outcome at each time point. *In the IC group, Week 6 questionnaires and clinical data were collected 1-2 weeks from hospital discharge for induction chemotherapy. (JPG 517 kb)
About this article
Cite this article
Sekeres, M., Stone, R., Zahrieh, D. et al. Decision-making and quality of life in older adults with acute myeloid leukemia or advanced myelodysplastic syndrome. Leukemia 18, 809–816 (2004). https://doi.org/10.1038/sj.leu.2403289
Received:

Accepted:

Published:

Issue Date:

DOI: https://doi.org/10.1038/sj.leu.2403289
Keywords
acute myeloid leukemia

quality of life

decision-making

older adults

outcome