Abstract
Nitrous oxide (N2O), a trace gas whose concentration is increasing in the atmosphere, plays an important role in both radiative forcing and stratospheric ozone depletion1,2. Its biogeochemical cycle has thus come under intense scrutiny in recent years. Despite these efforts, the global budget of N2O remains unresolved, and the nature and magnitude of the sources and sinks continue to be debated3,4,5 despite the constraints that can be provided by characterizations of the gas6,7. We report here the results of dual-isotope measurements of N2O from the water column of the subtropical North Pacific Ocean. Nitrous oxide within the lower-euphotic and upper-aphotic zones is depleted in both 15N and 18O relative to its tropospheric and deep-ocean composition. These findings are consistent with a prediction, based on global mass-balance considerations, of a near-surface isotopically depleted oceanic N2O source4. Our results indicate that this source, probably produced by bacterial nitrification, contributes significantly to the ocean–atmosphere flux of N2O in the oligotrophic subtropical North Pacific Ocean. This source may act to buffer the isotopic composition of tropospheric N2O, and is quantitatively significant in the global tropospheric N2O budget. Because dissolved gases in near-surface waters are more readily exchanged with the atmospheric reservoir than those in deep waters, the existence of a quantitatively significant N2O source at a relatively shallow depth has potentially important implications for the susceptibility of the source, and the ocean–atmosphere flux, to climatic influences.
This is a preview of subscription content
Access options
Subscribe to Journal
Get full journal access for 1 year
$199.00
only $3.90 per issue
All prices are NET prices.
VAT will be added later in the checkout.
Tax calculation will be finalised during checkout.
Buy article
Get time limited or full article access on ReadCube.
$32.00
All prices are NET prices.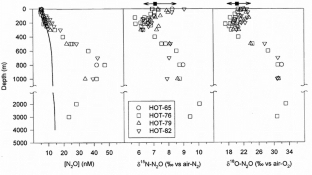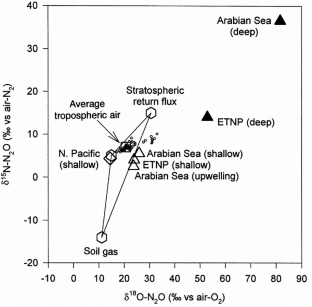 References
Houghton, J. T., Jenkins, G. J. & Ephraums, J. J. (eds) Climate Change: The IPCC Scientific Assessment(Cambridge Univ. Press, (1990)).

Crutzen, P. J. The influence of nitrogen oxides on the atmospheric ozone content. Q. J. R. Meteorol. Soc. 96, 320–325 (1970).

Bouwman, A. F., Van der Hoek, K. W. & Olivier, J. G. J. Uncertainties in the global source distribution of nitrous oxide. J. Geophys. Res. 100, 2785–2800 (1995).

Kim, K.-R. & Craig, H. Nitrogen-15 and oxygen-18 characteristics of nitrous oxide: a global perspective. Science 262, 1855–1857 (1993).

McElroy, M. B. & Jones, D. B. A. Evidence for an additional source of atmospheric N2O. Glob. Biogeochem. Cycles 10, 651–659 (1996).

Kim, K.-R. & Craig, H. Two-isotope characterization of N2O in the Pacific Ocean and constraints on its origin in deep water. Nature 347, 58–61 (1990).

Zafiriou, O. Laughing gas from leaky pipes. Nature 347, 15–16 (1990).

Karl, D. M. & Lukas, R. The Hawaii Ocean Time-series (HOT) program: background, rationale and field implementation. Deep-Sea Res. II 43, 129–156 (1996).

Alldredge, A. L. & Cohen, Y. Can microscale chemical patches persist in the sea? Microelectrode study of marine snow, fecal pellets. Science 235, 689–691 (1987).

Yoshida, N., Hattori, A., Saino, T., Matsuo, S. & Wada, E. 15N/14N ratio of dissolved N2O in the eastern tropical Pacific Ocean. Nature 307, 442–444 (1984).

Yamazaki, T., Yoshida, N., Wada, E. & Matsuo, S. N2O reduction by Azotobacter vinelandii with emphasis on kinetic isotope effects. Plant Cell Physiol. 28, 263–271 (1989).

Ward, B. B. in Nitrification(ed. Prosser, J. I.) 157–184 (IRL, Oxford, (1986)).

Dore, J. E. & Karl, D. M. Nitrification in the euphotic zone as a source for nitrite, nitrate and nitrous oxide at Station ALOHA. Limnol. Oceanogr. 41, 1619–1628 (1996).

Yoshida, N. 15N-depleted N2O as a product of nitrification. Nature 355, 528–529 (1988).

Yoshinari, T. & Wahlen, M. Oxygen isotope ratios in N2O from nitrification at a wastewater treatment facility. Nature 317, 349–350 (1985).

Li, Y.-H., Peng, T.-H., Broecker, W. S. & Östlund, H. G. The average vertical mixing coefficient for the oceanic thermocline. Tellus B 36, 212–217 (1984).

Jørgensen, B. B. Atheoretical model of the stable sulfur isotope distribution in marine sediments. Geochim. Cosmochim. Acta 43, 363–374 (1979).

Nevison, C. D., Weiss, R. F. & Erickson, D. J. Global oceanic emissions of nitrous oxide. J. Geophys. Res. 100, 15809–15820 (1995).

Rahn, T. & Wahlen, M. Stable isotope enrichment in stratospheric nitrous oxide. Science 278, 1776–1778 (1997).

Codispoti, L. A. & Christiansen, J. P. Nitrification, denitrification and nitrous oxide cycling in the eastern tropical South Pacific Ocean. Mar. Chem. 16, 277–300 (1985).

Law, C. S. & Owens, N. J. P. Significant flux of atmospheric nitrous oxide from the northwest Indian Ocean. Nature 346, 826–828 (1990).

Naqvi, S. W. A. & Noronha, R. J. Nitrous oxide in the Arabian Sea. Deep-Sea Res. 38, 871–890 (1991).

Yoshinari, T.et al. Nitrogen and oxygen isotopic composition of N2O from suboxic waters of the eastern tropical North Pacific and the Arabian Sea — measurement by continuous-flow isotope-ratio monitoring. Mar. Chem. 56, 253–264 (1997).

Naqvi, S. W. A.et al. Budgetary and biogeochemical implications of N2O isotope signatures in the Arabian Sea. Nature 394, 462–464 (1998).

Cline, J. D., Wisegarver, D. P. & Kelly-Hansen, K. Nitrous oxide and vertical mixing in the equatorial Pacific during the 1982–1983 El Niño. Deep-Sea Res. 34, 857–873 (1987).

Karl, D. M.et al. Ecosystem changes in the North Pacific subtropical gyre attributed to the 1991–92 El Niño. Nature 373, 230–234 (1995).

Sansone, F. J., Popp, B. N. & Rust, T. M. Stable carbon isotopic analysis of low-level methane in water and gas. Anal. Chem. 69, 40–44 (1997).

Popp, B. N., Sansone, F. J., Rust, T. M. & Merritt, D. A. Determination of concentration and carbon isotopic composition of dissolved methane in sediments and nearshore waters. Anal. Chem. 67, 405–411 (1995).

Craig, H. Isotopic standards for carbon and oxygen and correction factors for mass-spectrometric analysis of carbon dioxide. Geochim. Cosmochim. Acta 12, 133–149 (1957).

Brand, W. A. PRECON: a fully automated interface for the pre-GC concentration of trace gases in air for isotopic analyses. Isotopes Environ. Health Stud. 31, 277–284 (1995).

Yoshida, N. & Matsuo, S. Nitrogen isotope ratio of atmospheric N2O as a key to the global cycle of N2O. Geochem. J. 17, 231–239 (1983).
Acknowledgements
We thank the members of the Hawaii Ocean Time-series (HOT) program and M.E.Holmes for sample collection, and T. Rust for technical support. This research was supported by the US National Science Foundation.
About this article
Cite this article
Dore, J., Popp, B., Karl, D. et al. A large source of atmospheric nitrous oxide from subtropical North Pacific surface waters. Nature 396, 63–66 (1998). https://doi.org/10.1038/23921
Received:

Accepted:

Issue Date:

DOI: https://doi.org/10.1038/23921
Comments
By submitting a comment you agree to abide by our Terms and Community Guidelines. If you find something abusive or that does not comply with our terms or guidelines please flag it as inappropriate.