Abstract
Jones and Lipmann1 recently proposed a direct mechanism for the phosphorolysis of urea. We have found that urea is phosphorolytically cleaved by extracts of Streptococcus allantoicus. However, the urea moiety is indirectly decomposed as made evident by the requirement for glyoxylate. Co-factors for the following scheme of urea degradation in which glyoxylurea is an intermediate are diphospho-pyridine nucleotide (DPN), magnesium, and phosphate or arsenate :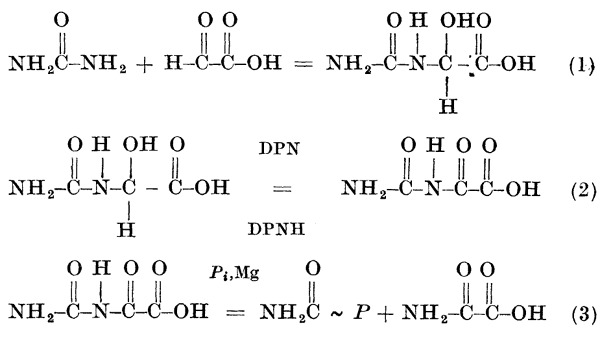 Oxamic transcarbamylase catalysing reaction (3) has been previously described by Valentine and Wolfe2.
Access options
Subscribe to Journal
Get full journal access for 1 year
$199.00
only $3.83 per issue
All prices are NET prices.
VAT will be added later in the checkout.
Rent or Buy article
Get time limited or full article access on ReadCube.
from$8.99
All prices are NET prices.
References
1

Jones, Mary Ellen, and Lipmann, Fritz, Proc. U.S. Nat. Acad. Sci., 46, 1194 (1960).

2

Valentine, R. C., and Wolfe, R. S., Biochem. and Biophys. Res. Comm., 2, 384 (1960).

3

Valentine, R. C., and Wolfe, R. S., Biochim. Biophys. Acta, 45, 389 (1960).

4

Lipmann, F., and Tuttle, L. C., J. Biol. Chem., 159, 21 (1945).

5

Young, E. G., and Conway, C. F., J. Biol. Chem., 142, 839 (1942).

6

Lowry, O. H., Rosebrough, J., Farr, A. L., and Randall, R. J., J. Biol. Chem., 193, 265 (1951).

7

Archibald, R. M., J. Biol. Chem., 156, 121 (1944).
About this article
Cite this article
VALENTINE, R., WOLFE, R. Phosphate-dependent Degradation of Urea. Nature 191, 925–926 (1961). https://doi.org/10.1038/191925b0
Comments
By submitting a comment you agree to abide by our Terms and Community Guidelines. If you find something abusive or that does not comply with our terms or guidelines please flag it as inappropriate.