Nature 397, 271– 274 (1999) As a result of a production error, the arrows in Fig. 3d were inappropriately aligned. The correct figure is reproduced below.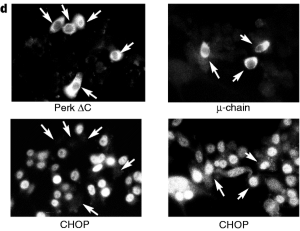 Additional information
The online version of the original article can be found at 10.1038/16729
About this article
Cite this article
Harding, H., Zhang, Y. & Ron, D. Erratum: Protein translation and folding are coupled by an endoplasmic-reticulum-resident kinase. Nature 398, 90 (1999) doi:10.1038/18057
Comments
By submitting a comment you agree to abide by our Terms and Community Guidelines. If you find something abusive or that does not comply with our terms or guidelines please flag it as inappropriate.