Abstract
Humans can accurately perceive the location of a sound source—not only the direction, but also the distance1,2,3,4,5,6,7,8,9. Sounds near the head, within ducking or reaching distance, have a special saliency. However, little is known about this perception of auditory distance. The direction to a sound source can be determined by interaural differences, and the mechanisms of direction perception have been studied intensively1; but except for studies on echolocation in the bat10, little is known about how neurons encode information on auditory distance. Here we describe neurons in the brain of macaque monkeys (Macaca fascicularis) that represent the auditory space surrounding the head, within roughly 30 cm. These neurons, which are located in the ventral premotor cortex, have spatial receptive fields that extend a limited distance outward from the head.
Your institute does not have access to this article
Relevant articles
Open Access articles citing this article.
Maddalena Beccherle

,

Stefania Facchetti

…

Michele Scandola

Experimental Brain Research Open Access 18 February 2022

Sara Spadone

,

Mauro Gianni Perrucci

…

Francesca Ferri

Scientific Reports Open Access 15 October 2021

Guy A. Orban

,

Alessia Sepe

&

Luca Bonini

Brain Structure and Function Open Access 10 September 2021
Access options
Subscribe to Journal
Get full journal access for 1 year
$199.00
only $3.90 per issue
All prices are NET prices.
VAT will be added later in the checkout.
Tax calculation will be finalised during checkout.
Buy article
Get time limited or full article access on ReadCube.
$32.00
All prices are NET prices.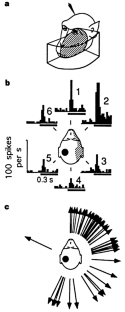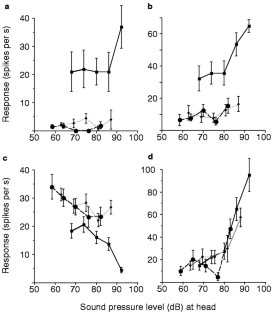 References
Blauert, J. Spatial Hearing: The Psychophysics of Human Sound Localization (transl. Allen, J. S.) (MIT Press, Cambridge, Massachusetts, (1997)).

Clifton, R. K., Rochat, P., Robin, D. J. & Berthier, N. E. Multimodal perception in the control of infant reaching. J. Exp. Psychol. Hum. Percept. Perform. 20, 876–886 (1994).

Coleman, P. D. An analysis of cues to auditory depth perception in free space. Psychol. Bull. 60, 302–315 (1963).

Coleman, P. D. Dual role of frequency spectrum in determination of auditory distance. J. Acoust. Soc. Am. 44, 631–632 (1968).

Edwards, A. A. Accuracy of auditory depth perception. J. Gen. Psychol. 52, 327–329 (1955).

Gamble, E. A. Intensity as a criterion in estimating the distance of sounds. Psychol. Rev. 16, 416–426 (1909).

Gardner, M. B. Distance estimation of 0° or apparent 0°-oriented speech signals in anechoic space. J. Acoust. Soc. Am. 45, 47–53 (1969).

Mershon, D. H. & Bowers, J. N. Absolute and relative cues for the auditory perception of egocentric distance. Perception 8, 311–322 (1979).

von Bekesy, G. Experiments in Hearing (McGraw-Hill, New York, (1960)).

Suga, N. & O'Neill, W. E. Neural axis representing target range in the auditory cortex of the mustache bat. Science 206, 351–353 (1979).

Gentilucci, M. et al. Functional organization of inferior area 6 in the macaque monkey. I. Somatotopy and the control of proximal movements. Exp. Brain. Res. 71, 475–490 (1988).

Fogassi, L. et al. Coding of peripersonal space in inferior premotor cortex (area F4). J. Neurophysiol. 76, 141–157 (1996).

Graziano, M. S. A., Yap, G. S. & Gross, C. G. Coding of visual space by pre-motor neurons. Science 266, 1054–1057 (1994).

Graziano, M. S. A., Hu, X. & Gross, C. G. Coding the locations of objects in the dark. Science 277, 239–241 (1997).

Rizzolatti, G. et al. Afferent properties of periarcuate neurons in macaque monkeys. II. Visual responses. Behav. Brain Res. 2, 147–163 (1981).

Graziano, M. S. A., Hu, X. & Gross, C. G. Visuo-spatial properties of ventral premotor cortex. J. Neurophysiol. 77, 2268–2292 (1997).

Ashmead, D. H., LeRoy, D. & Odom, R. D. Perception of the relative distances of nearby sound sources. Percept. Psychophys. 47, 326–331 (1990).

Mershon, D. H. & King, L. E. Intensity and reverberation as factors in the auditory perception of egocentric distance. Percept. Psychophys. 18, 409–415 (1975).

Coleman, P. D. Failure to localize the source distance of an unfamiliar sound. J. Acoust. Soc. Am. 34, 345–346 (1962).

Graziano, M. S. A., Fernandez, T. & Gross, C. G. Acomparison of bimodal, visual-tactile neurons in parietal area 7b and ventral premotor cortex of the monkey brain. Neurosci. Abs. 22, 398 (1996).

Cavada, C. & Goldman-Rakic, P. S. Posterior parietal cortex in rhesus monkey: II: Evidence for segregated corticocortical networks linking sensory and limbic areas with the frontal lobe. J. Comp. Neurol. 287, 422–445 (1989).

Matelli, M., Camarda, R., Glickstein, M. & Rizzolatti, G. Afferent and efferent projections of the inferior area 6 in the macaque monkey. J. Comp. Neurol. 255, 281–298 (1986).

Graziano, M. S. A. & Gross, C. G. Spatial maps for the control of movement. Curr. Opin. Neurobiol. 8, 195–201 (1998).

Rizzolatti, G., Fadiga, L., Fogassi, L. & Gallese, V. The space around us. Science 277, 190–191 (1997).

Boussaoud, D., Barth, T. M. & Wise, S. P. Effects of gaze on apparent visual responses of frontal cortex neurons. Exp. Brain Res. 93, 423–434 (1993).

Cohen, J. & P. Cohen, P. Applied Multiple Regression/Correlation Analysis for the Behavioral Sciences (Lawrence Earlbaum Associates, Hillsdale, New Jersey, (1983)).
Acknowledgements
We thank E. Olson, X. Hu, S. Alisharan, M. E. Wheeler and V. Gomez for their help during the experiment.
About this article
Cite this article
Graziano, M., Reiss, L. & Gross, C. A neuronal representation of the location of nearby sounds. Nature 397, 428–430 (1999). https://doi.org/10.1038/17115
Received:

Accepted:

Issue Date:

DOI: https://doi.org/10.1038/17115
Comments
By submitting a comment you agree to abide by our Terms and Community Guidelines. If you find something abusive or that does not comply with our terms or guidelines please flag it as inappropriate.