Summary:
CD4+CD56+ malignancy is a rare neoplasm with a typical clinical pattern, an aggressive course and high early relapse rate despite good initial response to chemotherapy. In this review, the impact of different therapeutic approaches on clinical outcome has been studied. We evaluated 91 published cases and our own six patients in terms of clinical features, immunophenotype/cytogenetics and treatment outcome. Treatment was divided into four groups: (A) chemotherapy less intensive than CHOP; (B) CHOP and CHOP-like regimens; (C) therapy for acute leukemia; (D) allogeneic/autologous stem cell transplantation. The median overall survival was only 13 months for all patients. Patients with skin-restricted disease showed no difference in the overall survival from patients with advanced disease (17 and 12 months, respectively). Age ⩾60 years was a negative prognostic factor. Age-adjusted analysis revealed improved survival after high-dose chemo/radiotherapy followed by allogeneic stem cell transplantation when performed in first complete remission. This therapeutic approach should be recommended for eligible patients with CD4+CD56+ malignancy. For older patients the best treatment option is still unknown.
Access options
Subscribe to this journal
Receive 12 print issues and online access
$259.00 per year
only $21.58 per issue
Rent or buy this article
Get just this article for as long as you need it
$39.95
Prices may be subject to local taxes which are calculated during checkout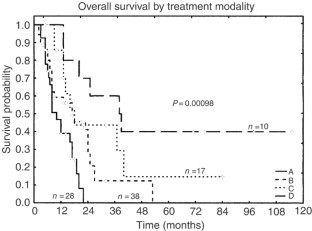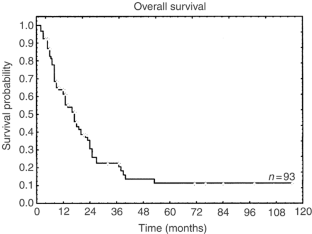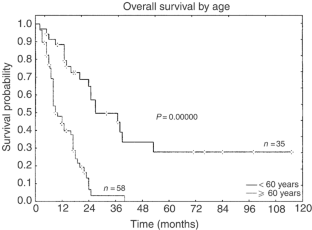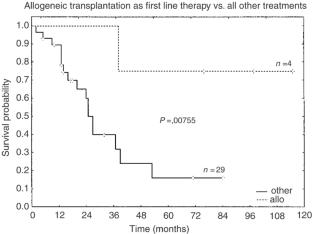 References
Chan JK . Natural killer cell neoplasms. Anat Pathol 1998; 3: 77–145.

Jaffe ES, Chan JKC, Su I-J et al. Report of the workshop on nasal and related extranodal angiocentric T/natural killer cell lymphomas: Definitions, differential diagnosis, and epidemiology. Am J Surg Pathol 1996; 20: 103–111.

Jaffe ES, Harris NL, Stein H, Vardiman JW . World Health Organization Classification of Tumours. Pathology & Genetics. Tumours of Hematopoietic and Lymphoid Tissues. IARC Press: Lyon, 2001, pp 214–215.

Rüdiger T, Weisenburger DD, Anderson JR et al. Peripheral T-cell lymphoma (excluding anaplastic large-cell lymphoma): results from the non-Hodgkin's lymphoma classification project. Ann Oncol 2002; 13: 140–149.

Petrella T, Comeau MR, Maynadié M et al. 'Agranular CD4+ CD56+ hematodermic neoplasm' (blastic NK-cell lymphoma) originates from a population of CD56+ precursor cells related to plasmocytoid monocytes. Am J Surg Pathol 2002; 26: 852–862.

Bachetoni A, Lionetti P, Cinti P et al. Homing of CD4+CD56+ T lymphocytes into kidney allografts during tubular necrosis or rejection. Clin Transplant 1995; 9: 433–437.

Barnaba V, Franco A, Paroli M et al. Selective expansion of cytotoxic T lymphocytes with a CD4+CD56+ surface phenotype and a helper type 1 profile of cytokine secretion in the liver of patients chronically infected with hepatitis B virus. J Immunol 1994; 152: 3074–3087.

Chaperot L, Bendriss N, Manches O et al. Identification of a leukemic counterpart of the plasmacytoid dendritic cells. Blood 2001; 97: 3210–3217.

Hayashi K, Nakamura S, Koshikawa T et al. A case of neural cell adhesion molecule-positive peripheral T-cell lymphoma associated with human T-cell lymphotrophic virus type 1 showing an unusual involvement of the gastrointestinal tract during the course of the disease. Hum Pathol 1994; 25: 1251–1253.

Adachi M, Maeda K, Takekawa M et al. High expression of CD56 (N-CAM) in a patient with cutaneous CD4-positive lymphoma. Am J Hematol 1994; 47: 278–282.

Petrella T, Dalac S, Maynadié M et al. and the Groupe Français d'Etude des Lymphomes Cutanés (GFELC). CD4+ CD56+ cutaneous neoplasm: A distinct hematological entity? Am J Surg Pathol 1999; 23: 137–146.

Savoia P, Fierro MT, Novelli M et al. CD56-positive cutaneous lymphoma: a poorly recognized entity in the spectrum of primary cutaneous disease. Br J Dermatol 1997; 137: 966–971.

Brody JP, Allen S, Schulman P et al. Acute agranular CD4-positive natural killer cell leukemia. Cancer 1995; 75: 2474–2483.

Nakamura S, Suchi T, Koshikawa T et al. Clinicopathologic study of CD56 (NCAM)-positive angiocentric lymphoma occurring in sites other than the upper and lower respiratory tract. Am J Surg Pathol 1995; 19: 284–296.

Kobashi Y, Nakamura S, Sasajima Y et al. Inconsistent association of Epstein–Barr virus with CD56 (NCAM)-positive angiocentric lymphoma occurring in sites other than the upper and lower respiratory tract. Histopathology 1996; 28: 111–120.

Savilo E, Meyer RM, Soamboosrup P et al. CD2+, CD3−, CD56/NCAM+ malignant lymphoma with TCRβ gene rearrangement: a case report. Am J Hematol 1995; 50: 209–214.

Dummer R, Potoczna N, Häffner AC et al. A primary cutaneous non-T, non-B CD4+, CD56+ lymphoma. Arch Dermatol 1996; 132: 550–553.

Emile J-F, Boulland M-L, Haioun C et al. CD5− CD56+ T-cell receptor silent peripheral T-cell lymphomas are natural killer cell lymphomas. Blood 1996; 87: 1466–1473.

DiGiuseppe JA, Louje DC, Williams JE et al. Blastic natural killer leukemia/lymphoma: A clinicopathologic study. Am J Surg Pathol 1997; 21: 1223–1230.

Drénou B, Lamy T, Amiot L et al. CD3−CD56+ Non-Hodgkin's lymphomas with an aggressive behaviour related to multidrug resistance. Blood 1997; 8: 2966–2974.

Uchiyama N, Ito K, Kawai K et al. CD2−, CD4+, CD56+ agranular natural killer cell lymphoma of the skin. Am J Dermatol 1998; 20: 513–517.

Bagot M, Bouloc A, Charue D et al. Do primary cutaneous non-T non-B CD4+CD56+ lymphomas belong to the myelo-monocytic lineage? (letter). J Invest Dermatol 1998; 11: 1242–1244.

Kameoka J, Ichinohasama R, Tanaka M et al. A cutaneous agranular CD2− CD4+ CD56+ 'lymphoma'. Am J Clin Pathol 1998; 110: 478–488.

Bastian BC, Ott G, Müller-Deubert S et al. Primary cutaneous natural killer/T-cell lymphoma. Arch Dermatol 1998; 134: 109–111.

Ko YH, Kim SH, Ree HJ . Blastic NK-cell lymphoma expressing terminal deoxynucleotidyl transferase with Homer-Wright type pseudorosettes formation. Histopathology 1998; 33: 547–553.

Mukai HY, Kojima H, Suzukawa K et al. High-dose chemotherapy with peripheral blood stem cell rescue in blastoid Natural Killer cell lymphoma. Leukemia Lymphoma 1999; 32: 583–588.

Mhawech P, Medeiros J, Bueso-Ramos C et al. Natural killer-cell lymphoma involving the gynecologic tract. Arch Pathol Lab Med 2000; 124: 1510–1513.

Nagatani T, Okazawa H, Kambara T et al. Cutaneous monomorphous CD4- and CD56-positive large-cell lymphoma. Dermatology 2000; 200: 202–208.

Falcão RP, Garcia AB, Marques MG et al. Blastic CD4 NK cell leukemia/lymphoma: a distinct clinical entity. Leuk Res 2002; 26: 803–807.

Kojima H, Mukai HY, Shinagawa A et al. Clinicopathological analyses of 5 Japanese patients with CD56+ primary cutaneous lymphomas. Int J Hematol 2000; 72: 477–483.

Ginarte M, Abalde MT, Peteiro C et al. Blastoid NK cell leukemia/lymphoma with cutaneous involvement. Dermatology 2000; 201: 268–271.

Rakozy C, Mohamed AN, Vo TD et al. CD56+/CD4+ lymphomas and leukemias are morphologically, immunophenotypically, cytogenetically, and clinically diverse. Am J Clin Pathol 2001; 116: 168–176.

Yamada O, Ichikawa M, Okamoto T et al. Killer T-cell induction in patients with blastic natural killer cell lymphoma/leukaemia: implications for successful treatment and possible therapeutic strategies. Br J Haematol 2001; 113: 153–160.

Kimura S, Kakazu N, Kuroda J et al. Agranular CD4+CD56+ blastic natural killer leukaemia/lymphoma. Ann Hematol 2001; 80: 228–231.

Honda S, Ito Y, Otawa M et al. CD56- and CD4-positive non-Hodgkin's lymphoma of probable T-cell origin. Rinsho Ketsueki 2001; 42: 420–425.

Álvarez-Larrán A, Villamor N, Hernández-Boluda JC et al. Blastic natural killer cell leukemia/lymphoma presenting as overt leukaemia. Clin Lymphoma 2001; 2: 178–182.

Kato N, Yasukawa K, Kimura K et al. CD2−CD4+CD56+ hematodermic/hematolymphoid malignancy. J Am Acad Dermatol 2001; 44: 231–238.

Aoyama Y, Yamane T, Hino M et al. Blastic NK-cell lymphoma/leukemia with T-cell receptor γ rearrangement. Ann Hematol 2001; 80: 752–754.

Feuillard J, Jacob M-C, Valensi F et al. Clinical and biological features of CD4+CD56+ malignancies. Blood 2002; 99: 1556–1563.

Khoury JD, Medeiros LJ, Manning JT et al. CD56+ TdT+ Blastic natural killer cell tumor of the skin. A primitive systemic malignancy related to myelomonocytic leukemia. Cancer 2002; 94: 2401–2408.

Chen N, Agosti S, Doll D . Blastic natural killer cell leukaemia/lymphoma. Br J Haematol 2002; 116: 241.

Chang SE, Choi HJ, Huh J et al. A case of primary cutaneous CD56+, TdT+, CD4+, blastic NK-cell lymphoma in a 19-year-old woman. Am J Dermatopathol 2002; 24: 72–75.

Bayerl MG, Rakozy CK, Mohamed AN et al. Blastic natural killer cell lymphoma/leukemia. Am J Clin Pathol 2002; 11: 41–50.

Leroux D, Mugneret F, Callanan M et al. on behalf of Groupe Français de Cytogénétique Hématologique. CD4, CD56+ DC2 acute leukaemia is characterized by recurrent clonal chromosomal changes affecting 6 major targets: a study of 21 cases by the Groupe Français de Cytogénétique Hématologique. Blood 2002; 99: 4154–4159.
About this article
Cite this article
Reimer, P., Rüdiger, T., Kraemer, D. et al. What is CD4+CD56+ malignancy and how should it be treated?. Bone Marrow Transplant 32, 637–646 (2003). https://doi.org/10.1038/sj.bmt.1704215
Published:

Issue Date:

DOI: https://doi.org/10.1038/sj.bmt.1704215
Keywords
CD4+CD56 malignancy

stem cell transplantation

chemotherapy