Abstract
Neptune's largest moon, Triton, is one of two satellites in the Solar System that are currently geologically active. At least two geyser-like plumes were observed by the Voyager 2 spacecraft in 1989, and dozens of streaky deposits hint at the existence of many more1. Triton also exhibits complex seasonal changes in its 165-year journey about the Sun2. Because Triton's atmosphere transports volatiles (primarily nitrogen and methane) during this seasonal cycle, its atmospheric pressure may fluctuate by up to an order of magnitude over decades3. Photometric measurements of its albedo and colour over half a century show that seasonal volatile transport has occurred4. There have also been indications that more extreme, short-lived changes, perhaps due to geological events, have occurred on Triton. An anomalously red spectrum was reported for Triton in 1977 (56), and global warming has now been observed7.
Access options
Subscribe to Journal
Get full journal access for 1 year
$199.00
only $3.90 per issue
All prices are NET prices.
VAT will be added later in the checkout.
Rent or Buy article
Get time limited or full article access on ReadCube.
from$8.99
All prices are NET prices.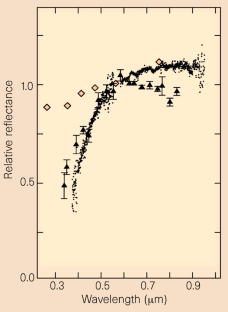 References
1

Smith, B. et al. Science 246, 1422–1449 (1989).

2

Trafton, L. Icarus 58, 312–324 (1984).

3

Brown, R. H., Johnson, T. V., Goguen, J. D., Schubert, G. & Ross, M. N. Science 251, 1465–1467 (1991).

4

Buratti, B., Goguen, J. D., Gibson, J. & Mosher, J. Icarus 110, 303–314 (1994).

5

Cruikshank, D. P., Stockton, D., Dyck, H. M., Becklin, E. E. & Macy, W. J Icarus 40, 104–114 (1979).

6

Bell, J., Clark, R. N., McCord, T. B. & Cruikshank, D. P. Bull. Am. Astron. Soc. 11, 570 (1979).

7

Elliot, J. et al. Nature 393, 765–767 (1998).

8

McEwen, A. J. Geophys. Res. 17, 1765–1768 (1990).

9

Thompson, W. R., Murray, B., Khare, B. N. & Sagan, C. J. Geophys. Res. 92, 14933–14947 (1987).

10

Grundy, W. & Fink, U. Icarus 93, 379–385 (1991).
About this article
Cite this article
Buratti, B., Hicks, M. & Newburn, Jr, R. Does global warming make Triton blush?. Nature 397, 219 (1999) doi:10.1038/16615
Comments
By submitting a comment you agree to abide by our Terms and Community Guidelines. If you find something abusive or that does not comply with our terms or guidelines please flag it as inappropriate.